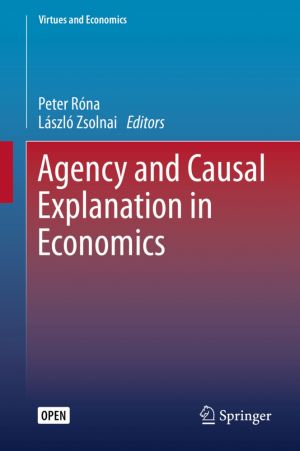 Book Description
This open access book provides an exploration of the consequences of the ontological differences between natural and social objects (sometimes described as objects of nature and objects of thought) in the workings of causal and agency relationships. One of its important and possibly original conclusions is that causal and agency relationships do not encompass all of the dependent relationships encountered in social life. The idea that social reality is contingent has been known (and largely undisputed) at least since Wittgenstein's "On Certainty", but social science, and most notably economics has continued to operate on the basis of causal and agency theories borrowed or adapted from the natural sciences. This volume contains essays that retain and justify the partial or qualified use of this approach and essays that totally reject any use of causal and agency theory built on determined facts (closed systems).The rejection is based on the possibly original claim that, whereas causation in the objects of the natural sciences reside in their properties, human action is a matter of intentionality. It engages with critical realist theory and re-examines the role of free will in theories of human action in general and economic theory in particular.
This open book is licensed under a Creative Commons License (CC BY). You can download Agency and Causal Explanation in Economics ebook for free in PDF format (2.2 MB).
Book Details
Subject
Philosophy
Publisher
Springer
Published
2020
Pages
178
Edition
1
Language
English
ISBN13
9783030261139
ISBN10
3030261131
ISBN13 Digital
9783030261146
ISBN10 Digital
303026114X
PDF Size
2.2 MB
License

Related Books

Non-Equilibrium Social Science and Policy
by Jeffrey Johnson, Andrzej Nowak, Paul Ormerod, Bridget Rosewell, Yi-Cheng Zhang
The overall aim of this book, an outcome of the European FP7 FET Open NESS project, is to contribute to the ongoing effort to put the quantitative social sciences on a proper footing for the 21st century. A key focus is economics, and its implications on policy making, where the still dominant traditional approach increasingly struggles to capture ...

Economic Evaluation of Sustainable Development
by Vinod Thomas, Namrata Chindarkar
This book presents methods to evaluate sustainable development using economic tools. The focus on sustainable development takes the reader beyond economic growth to encompass inclusion, environmental stewardship and good governance. Sustainable Development Goals (SDGs) provide a framework for outcomes. In illustrating the SDGs, the book employs thr...

Building a Resilient and Sustainable Agriculture in Sub-Saharan Africa
by Abebe Shimeles, Audrey Verdier-Chouchane, Amadou Boly
What are the challenges and action points for agricultural sustainability in Sub-Saharan Africa? This collection of papers offers technical analyses, policy recommendations and an overview of success stories to date. Each carefully selected paper provides valuable insights for improved policy making and defines relevant strategic priorities on Afri...

Practical Economics
by Nika Gilauri
In this book, Nika Gilauri reveals his formulas for government reform and economic recovery, including how to fight against corruption, reform fiscal policy and tax systems, privatize state-owned enterprises, build a welfare system for those most in need, create a competitive education and healthcare system, and streamline procurement. All formulas...

Transformation and Development
by Anja Mihr
This book features various studies on democratization, transformation, political and economic development, and security issues in the Organization for Security and Cooperation in Europe (OSCE) geographical region and beyond. Written by experts and academics in the fields of human rights, security, transformation and development, particularly in pos...