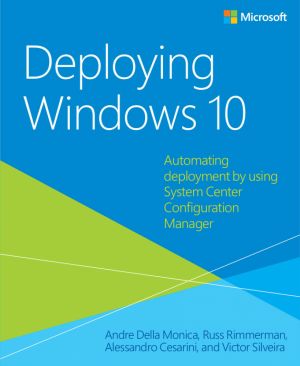 Book Description
Get a head start deploying Windows 10 - with tips and best practices from experts in the field. This guide shows you how to deploy Windows 10 in an automated way without impacting end users by leveraging System Center Configuration Manager, which is the most used product to deploy Microsoft operating systems in the industry today.
Windows 10 represents a major paradigm shift for Microsoft and the Windows ecosystem in general as we modernize the platform by introducing "as a service" capabilities. Hundreds of millions of devices are already running Windows 10 today. Businesses are beginning to evaluate the new capabilities of Windows 10, including Windows as a service, as part of their deployment plans. With Windows 7 recently transitioning into extended support, businesses need to begin planning for the future of their Windows operating system environment.
Although there are many aspects to consider in managing a Windows device, one of the essential early stages of the lifecycle is deployment. More than 70 percent of businesses use System Center Configuration Manager for PC management, and that market share continues to grow every quarter. Configuration Manager is an industry leader, and the Operating System Deployment (OSD) feature is one of the most popular and frequently used. The product supports many traditional operating system deployment methods as well as support for newer Windows 10 deployment scenarios such as in-place upgrade.
This open book is licensed under a Microsoft Open License. You can download Deploying Windows 10 ebook for free in PDF format (5.6 MB).
Table of Contents
Chapter 1
Why implement Windows 10?
Chapter 2
Windows 10 deployment options
Chapter 3
Configuration Manager Operating System Deployment concepts
Chapter 4
Using System Center Configuration Manager to deploy Windows 10
Book Details
Subject
Computer Science
Publisher
Microsoft Press
Published
2016
Pages
97
Edition
1
Language
English
ISBN13 Digital
9781509301867
ISBN10 Digital
1509301860
PDF Size
5.6 MB
License
Microsoft Open
Related Books

Windows 10 IT Pro Essentials: Support Secrets
by Ed Bott
That group includes full-time professional trainers, of course, but it also includes IT pros and those brave souls who staff the help desk in corporations. Most of all, it includes the incredibly large population of people who have earned a reputation for being "the person who knows Windows." With that knowledge comes a seemingly endle...

Windows 10 IT Pro Essentials: Top 10 Tools
by Ed Bott
Dive in to Windows 10 with award-winning journalist and Windows Expert Ed Bott in this highly curated free eBook covering the top apps, accessories, and utilities included in the box with Windows 10. The sheer volume of Windows programs and accessories says a lot about the power and complexity of Windows - a fact that every IT pro knows from fir...

Android on x86
by Iggy Krajci, Darren Cummings
Android on x86: an Introduction to Optimizing for Intel® Architecture serves two main purposes. First, it makes the case for adapting your applications onto Intel's x86 architecture, including discussions of the business potential, the changing landscape of the Android marketplace, and the unique challenges and opportunities that arise from x86 de...

MSIX Succinctly
by Matteo Pagani
MSIX, the packaging format introduced in Windows 10, is the perfect starting point to move your desktop applications forward. In MSIX Succinctly, IT pros can learn how to use MSIX to repackage their apps using the modern format, build modification packages, and utilize the Package Support Framework to change the logic of an app without changing its...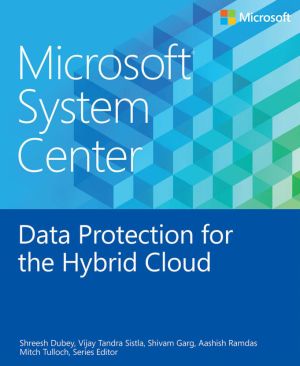 Data Protection for the Hybrid Cloud
by Shreesh Dubey, Vijay Tandra Sistla, Shivam Garg, Aashish Ramdas, Mitch Tulloch
If you are responsible for architecting and designing the backup strategy for your organization, especially if you're looking for ways to incorporate cloud backup into your business continuity scenarios, this book is for you. With the increasing trends in virtualization as well as the move to the pubic cloud, IT organizations are headed toward a wo...