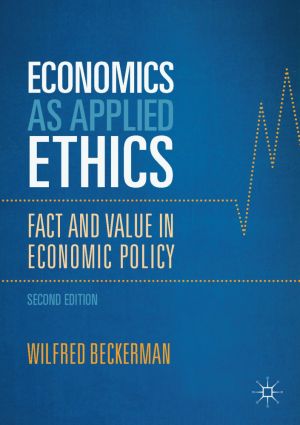 Book Description
This important textbook has been revised and updated to continue its focus on the link between ethics and economic policy analysis, whilst ensuring that perspectives addressing the moral limits of the market, latest behavioural economics literature, and the changes in inequality over the years are included. Basic philosophical concepts are systematically described, followed by conventional welfare economic theory and policy, and applications to some topical economic problems such as income distribution and sustainable development.
This open book is licensed under a Creative Commons License (CC BY). You can download Economics as Applied Ethics ebook for free in PDF format (2.9 MB).
Book Details
Subject
Economics and Finance
Publisher
Palgrave Macmillan
Published
2017
Pages
299
Edition
1
Language
English
ISBN13
9783319503189
ISBN10
3319503189
ISBN13 Digital
9783319503196
ISBN10 Digital
3319503197
PDF Size
2.9 MB
License

Related Books

Paths to the Emerging State in Asia and Africa
by Keijiro Otsuka, Kaoru Sugihara
This book addresses the issue of how a country, which was incorporated into the world economy as a periphery, could make a transition to the emerging state, capable of undertaking the task of economic development and industrialization. It offers historical and contemporary case studies of transition, as well as the international background under wh...

White Gold: The Commercialisation of Rice Farming in the Lower Mekong Basin
by Rob Cramb
This open access book is about understanding the processes involved in the transformation of smallholder rice farming in the Lower Mekong Basin from a low-yielding subsistence activity to one producing the surpluses needed for national self-sufficiency and a high-value export industry. For centuries, farmers in the Basin have regarded rice as &quot...

The EU and China in African Authoritarian Regimes
by Christine Hackenesch
This book analyses the domestic politics of African dominant party regimes, most notably African governments' survival strategies, to explain their variance of opinions and responses towards the reforming policies of the EU. The author discredits the widespread assumption that the growing presence of China in Africa has made the EU's task of suppor...

Internal Migration, Urbanization and Poverty in Asia: Dynamics and Interrelationships
by Kankesu Jayanthakumaran, Reetu Verma, Guanghua Wan, Edgar Wilson
Asia's recent demographic transitions and rural - urban structural transformations are extraordinary and involve complexities that require in-depth study.The chapters within this volume examine those complexities using a range of traditional and nontraditional measures - such as multidimensional poverty, gaps, and polarization - to arrive at the co...

Business Ethics - A Philosophical and Behavioral Approach
by Christian A. Conrad
This textbook examines the extent to which moral values play a role as productive forces for the economy, and explores the effect of ethical and unethical Behavior on the economy. It shows how ethics improves productivity in the economy, and provides specific ethics tools for practical application for students and managers. Stemming from an overall...