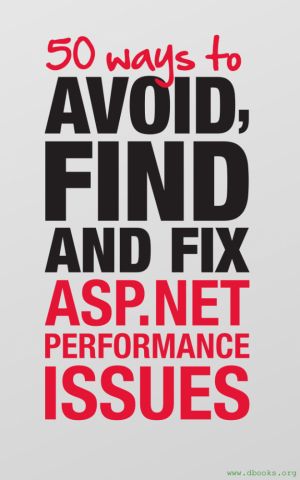 50 Ways to Avoid Find and Fix ASP.NET Performance Issues
by Anthony Dang, Kevin Griffin, David Haney, Troy Hunt, Anthony Van Der Hoorn, Michael Sorens, Matthew K, Dave Ward, Nick Harrison, Eremy Jarrell, Ian Dunkerly, Ted Jardine, Anthony Moorer, Julie Beller, Gregory Whatley, Shawn Binns, Bruce Norton, Steph
DOWNLOAD EBOOK
READ ONLINE
SHARE BOOK
QR CODE
Book Description
Read the tips and tricks that top developers from the .NET and SQL Server communities use to boost code and query performance in their applications.
50 tips from the .NET and SQL Server communities for boosting performance in your .NET application; Learn the secrets of your fellow developers and read advice from MVPs and other experts; Covers performance problems in .NET code, SQL Server queries, interactions between code and database, and more...
This open book is licensed under a Creative Commons License (CC BY). You can download 50 Ways to Avoid Find and Fix ASP.NET Performance Issues ebook for free in PDF format (1.6 MB).
Table of Contents
Caching is a last resort
Remove unused View Engines
Use Microsoft's PDBs to debug or profile external assemblies or libraries
A selection of tips
Make sure paging is conducted at the database layer
Always perform validation on the server
Review what client scripts you are using
Reduce the data sent across the network
Avoid running sites in debug mode
When in production, carefully consider what you need to log
A selection of tips
Use the startMode attribute to reduce the load time for your ASP.NET site
Don't underestimate the value of the UI when tackling performance problems
Throw hardware at the problem, not developers
Don't assume that problems can only arise from business logic
Before tackling any website performance issue, first verify the problem isn't on the client
Static collections
Know your loops
Seven handy ViewState tips
Avoid using session state
Take advantage of .NET 4.5 async constructs
StringBuilder is NOT the answer for all string concatenation scenarios; String.Join could be
ORM Tips
T-SQL Tips
Index Tips
Book Details
Subject
Computer Science
Publisher
Red Gate
Published
2012
Pages
50
Edition
1
Language
English
PDF Size
1.6 MB
License

Related Books

25 Secrets for Faster ASP.NET Applications
by Jeffrey Richter, John Robbins, David Conlin, Shmuel Englard, Ryan Riley, Chris Allen, Robert Haken, Mitchel Sellers, Niall Merrigan, Chris Hurley, Raghavendra, Matt Lee, Jp Toto, Michael Williamson, Tiago Pascoal
Read the tips and tricks recommended by some of the smartest minds in the ASP.NET community. 25 tips from the ASP.NET community for boosting performance in your web applications; Learn the secrets of your fellow developers and read advice from MVPs and other experts; Covers async/await, Web API, ORMs, interactions between your code and your data...

ASP.NET Core 2 Succinctly
by Simone Chiaretta, Ugo Lattanzi
Since Microsoft sent shockwaves through its developer community with the release of .NET Core in 2016, it's continued to improve and expand its open-source, cross-platform offerings. ASP.NET Core 2 is a key component of that progress, delivering modularity, better performance, and flexibility to web development. In ASP.NET Core 2 Succinctly, author...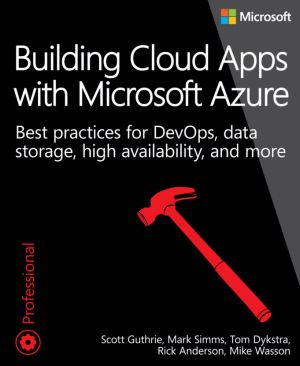 Building Cloud Apps with Microsoft Azure
by Scott Guthrie, Mark Simms, Tom Dykstra, Rick Anderson, Mike Wasson
This book walks you through a patterns-based approach to building real-world cloud solutions. The patterns apply to the development process as well as to architecture and coding practices. Developers who are curious about developing for the cloud, are considering a move to the cloud, or are new to cloud development will find here a concise overv...

Water Resource Systems Planning and Management
by Daniel P. Loucks, Eelco van Beek
This revised, updated textbook presents a systems approach to the planning, management, and operation of water resources infrastructure in the environment. Previously published in 2005 by UNESCO and Deltares (Delft Hydraulics at the time), this new edition, written again with contributions from Jery R. Stedinger, Jozef P. M. Dijkman, and Monique T...

Ten Steps to Linux Survival
by James Lehmer
Linux systems are everywhere today, even in companies once considered "pure Windows." If you're a sysadmin, network administrator, or developer in a small Windows shop, you may have to jump in and fix a system problem when your site goes down. What if you have no Linux knowledge? This short guide provides tips to help you survive. Linu...