Book Description
Python is one of those rare languages which can claim to be both simple and powerful. You will find yourself pleasantly surprised to see how easy it is to concentrate on the solution to the problem rather than the syntax and structure of the language you are programming in.
A Byte of Python is a free book on programming using the Python language. It serves as a tutorial or guide to the Python language for a beginner audience. If all you know about computers is how to save text files, then this is the book for you.
This book will teach you to use Python version 3. There will also be guidance for you to adapt to the older and more common Python version 2 in the book.
This open book is licensed under a Creative Commons License (CC BY-SA). You can download A Byte of Python ebook for free in PDF format (4.1 MB).
Table of Contents
Installation
First Steps
Basics
Operators and Expressions
Control flow
Functions
Modules
Data Structures
Problem Solving
Object Oriented Programming
Input and Output
Exceptions
Standard Library
More
What Next
Appendix: FLOSS
Appendix: About
Appendix: Revision History
Appendix: Translations
Appendix: Translation How-to
Book Details
Subject
Computer Science
Publisher
Self-publishing
Published
2013
Pages
117
Edition
1
Language
English
PDF Size
4.1 MB
License

Related Books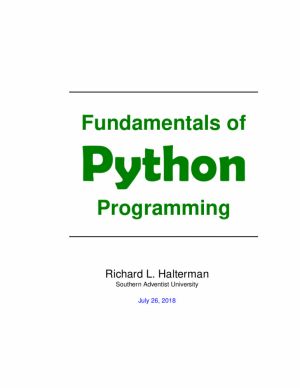 Fundamentals of Python Programming
by Richard L. Halterman
Guido van Rossum created the Python programming language in the late 1980s. In contrast to other popular languages such as C, C++ , Java, and C#, Python strives to provide a simple but powerful syntax. Python is used for software development at companies and organizations such as Google, Yahoo, Facebook, CERN, Industrial Light and Magic, and NAS...

Making Games with Python & Pygame
by Al Sweigart
Making Games with Python & Pygame covers the Pygame library with the source code for 11 games. Making Games was written as a sequel for the same age range as Invent with Python. Once you have an understanding of the basics of Python programming, you can now expand your abilities using the Pygame library to make games with graphics, animation, a...

Python Machine Learning Projects
by Lisa Tagliaferri, Michelle Morales, Ellie Birkbeck, Alvin Wan
As machine learning is increasingly leveraged to find patterns, conduct analysis, and make decisions - sometimes without final input from humans who may be impacted by these findings - it is crucial to invest in bringing more stakeholders into the fold. This book of Python projects in machine learning tries to do just that: to equip the developers ...

How To Code in Python 3
by Lisa Tagliaferri
Extremely versatile and popular among developers, Python is a good general-purpose language that can be used in a variety of applications. For those with an understanding of English, Python is a very humanreadable programming language, allowing for quick comprehension. Because Python supports multiple styles including scripting and object-oriented ...

Programming for Computations - Python
by Svein Linge, Hans Petter Langtangen
This book presents computer programming as a key method for solving mathematical problems. This second edition of the well-received book has been extensively revised: All code is now written in Python version 3.6 (no longer version 2.7). In addition, the two first chapters of the previous edition have been extended and split up into five new chapte...

Programming for Computations - Python
by Svein Linge, Hans Petter Langtangen
This book presents computer programming as a key method for solving mathematical problems. There are two versions of the book, one for MATLAB and one for Python. The book was inspired by the Springer book TCSE 6: A Primer on Scientific Programming with Python (by Langtangen), but the style is more accessible and concise, in keeping with the needs o...