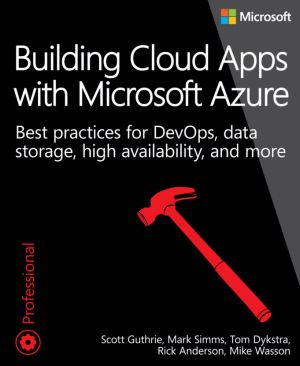 Building Cloud Apps with Microsoft Azure
Best practices for DevOps, data storage, high availability, and more
by Scott Guthrie, Mark Simms, Tom Dykstra, Rick Anderson, Mike Wasson
DOWNLOAD EBOOK
READ ONLINE
SHARE BOOK
QR CODE
Book Description
This book walks you through a patterns-based approach to building real-world cloud solutions. The patterns apply to the development process as well as to architecture and coding practices.
Developers who are curious about developing for the cloud, are considering a move to the cloud, or are new to cloud development will find here a concise overview of the most important concepts and practices they need to know. The concepts are illustrated with concrete examples, and each chapter includes links to other resources that provide more in-depth information. The examples and the links to additional resources are for Microsoft frameworks and services, but the principles illustrated apply to other web development frameworks and cloud environments as well.
Developers who are already developing for the cloud may find ideas here that will help make them more successful. Each chapter in the series can be read independently, so you can pick and choose topics that you're interested in.
Anyone who watched Scott Guthrie's "Building Real World Cloud Apps with Windows Azure" presentation and wants more details and updated information will find that here.
This book expects that you have experience developing web applications by using Visual Studio and ASP.NET. Familiarity with C# would be helpful in places.
This open book is licensed under a Microsoft Open License. You can download Building Cloud Apps with Microsoft Azure ebook for free in PDF format (8.1 MB).
Table of Contents
Introduction
Chapter 1
Automate everything
Chapter 2
Source control
Chapter 3
Continuous integration and continuous delivery
Chapter 4
Web development best practices
Chapter 5
Single sign-on
Chapter 6
Data storage options
Chapter 7
Data partitioning strategies
Chapter 8
Unstructured blob storage
Chapter 9
Design to survive failures
Chapter 10
Monitoring and telemetry
Chapter 11
Transient fault handling
Chapter 12
Distributed caching
Chapter 13
Queue-centric work pattern
Chapter 14
More patterns and guidance
Appendix
The Fix It sample application
Book Details
Subject
Computer Science
Publisher
Microsoft Press
Published
2014
Pages
201
Edition
1
Language
English
ISBN13 Digital
9780735695658
ISBN10 Digital
0735695652
PDF Size
8.1 MB
License
Microsoft Open
Related Books

Fundamentals of Azure
by Michael Collier, Robin Shahan
Microsoft Azure is Microsoft's cloud computing platform, providing a wide variety of services you can use without purchasing and provisioning your own hardware. Azure enables the rapid development of solutions and provides the resources to accomplish tasks that may not be feasible in an on-premises environment. Azure's compute, storage, network, an...

Containerized Docker Application Lifecycle with Microsoft Platform and Tools
by Cesar de la Torre
This book provides end-to-end guidance on the Docker application development lifecycle with Microsoft tools and services while providing an introduction to Docker development concepts for readers who might be new to the Docker ecosystem. This way, anyone can understand the global picture and start planning development projects based on Docker and M...

Migrating SQL Server Databases to Azure
by Carl Rabeler
SQL Server is Microsoft's relational database management system (RDBMS). SQL Server can now be hosted entirely in Microsoft Azure, either in a hosted virtual machine (VM) or as a hosted service. Hosting a virtual machine in Azure is known as infrastructure as a service (IaaS), and hosting a service in Azure is known as platform as a service (PaaS)....

App Modernization on Azure Succinctly
by Lorenzo Barbieri
What's the right way to move existing applications to the cloud to better use its power while enabling new features? In App Modernization on Azure Succinctly, Lorenzo Barbieri will help you understand how to modernize existing apps without completely rewriting them. This ebook will guide you through moving your app to the cloud, refactoring, rearch...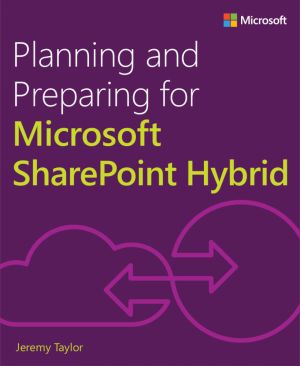 Planning and Preparing for Microsoft SharePoint Hybrid
by Jeremy Taylor
Microsoft SharePoint hybrid deployments are rapidly becoming popular with Microsoft's investments on increased SharePoint productivity, not only in your own environment (on-premises) but also collaborating in new ways through the largest and most advanced cloud service platform in the world - Microsoft Office 365 and Microsoft Azure. SharePoint hyb...

Building Energy Modeling with OpenStudio
by Larry Brackney, Andrew Parker, Daniel Macumber, Kyle Benne
This book teaches the fundamentals of building energy modeling and analysis using open source example applications built with the US DOE's OpenStudio modeling platform and EnergyPlus simulation engine. Designed by researchers at US National Laboratories to support a new generation of high performance buildings, EnergyPlus and OpenStudio are revolut...