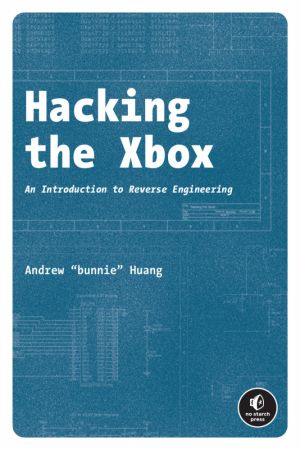 Book Description
This hands-on guide to hacking begins with step-by-step tutorials on hardware modifications that teach basic hacking techniques as well as essential reverse engineering skills. The book progresses into a discussion of the Xbox security mechanisms and other advanced hacking topics, with an emphasis on educating the readers on the important subjects of computer security and reverse engineering. Hacking the Xbox includes numerous practical guides, such as where to get hacking gear, soldering techniques, debugging tips and an Xbox hardware reference guide.
Hacking the Xbox also confronts the social and political issues facing today's hacker by looking forward and discussing the impact of today's legal challenges on legitimate reverse engineering activities. The book includes a chapter written by the Electronic Frontier Foundation (EFF) about the rights and responsibilities of hackers, and concludes by discussing the latest trends and vulnerabilities in secure PC platforms.
This open book is licensed under a Creative Commons License (CC BY). You can download Hacking the Xbox ebook for free in PDF format (17.9 MB).
Table of Contents
Prologue
README.1ST
1
Chapter 1
Voiding the Warranty
15
Chapter 2
Thinking Inside the Box
31
Chapter 3
Installing a Blue LED
53
Chapter 4
Building a USB Adapter
67
Chapter 5
Replacing a Broken Power Supply
73
Chapter 6
The Best Xbox Game: Security Hacking
89
Chapter 7
A Brief Primer on Security
101
Chapter 8
Reverse Engineering Xbox Security
119
Chapter 9
Sneaking in the Back Door
137
Chapter 10
More Hardware Projects
151
Chapter 11
Developing Software for the Xbox
161
Chapter 12
Caveat Hacker
173
Chapter 13
Onward!
193
Appendix A
Where to Get Your Hacking Gear
207
Appendix B
Soldering Techniques
211
Appendix C
Getting into PCB Layout
223
Appendix D
Getting Started with FPGAs
237
Appendix E
Debugging: Hints and Tips
247
Appendix F
Xbox Hardware Reference
257
Book Details
Subject
Computer Science
Publisher
No Starch Press
Published
2003
Pages
291
Edition
1
Language
English
ISBN13 Digital
9781593270292
ISBN10 Digital
1593270291
PDF Size
17.9 MB
License

Related Books

Hacking Secret Ciphers with Python
by Al Sweigart
There are many books that teach beginners how to write secret messages using ciphers. There are a couple books that teach beginners how to hack ciphers. As far as I can tell, there are no books to teach beginners how to write programs to hack ciphers. This book fills that gap. This book is for complete beginners who do not know anything about en...

Social Theory of Fear
by Geoffrey R. Skoll
In the current crisis of the capitalist world system, elites promote fear of crime and terrorism to keep and expand their privileges and control the masses. This book offers an analysis of the crisis and strategies for rebellion....

Humanities World Report 2015
by Poul Holm, Arne Jarrick, Dominic Scott
The first of its kind, this Open Access 'Report' is a first step in assessing the state of the humanities worldwide. Based on an extensive literature review and enlightening interviews the book discusses the value of the humanities, the nature of humanities research and the relation between humanities and politics, amongst other issues....

Knowledge and Action
by Peter Meusburger, Benno Werlen, Laura Suarsana
This volume explores interdependencies between knowledge, action, and space from different interdisciplinary perspectives. Some of the contributors discuss knowledge as a social construct based on collective action, while others look at knowledge as an individual capacity for action. The chapters contain theoretical frameworks as well as experiment...

Theories in and of Mathematics Education
by Angelika Bikner-Ahsbahs, Andreas Vohns, Oliver Schmitt, Regina Bruder, Willi Dörfler
This survey provides an overview of German meta-discourse on theories and mathematics education as a scientific discipline, from the 1970s to the 1990s. Two theory strands are offered: a semiotic view related to Peirce and Wittgenstein (presented by Willibald Dörfler), and the theory of learning activity by Joachim Lompscher (presented by Regina B...