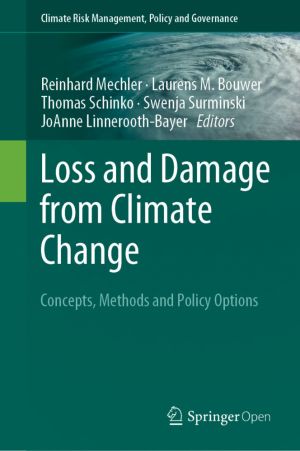 Loss and Damage from Climate Change
Concepts, Methods and Policy Options
by Reinhard Mechler, Laurens M. Bouwer, Thomas Schinko, Swenja Surminski, JoAnne Linnerooth-Bayer
DOWNLOAD EBOOK
READ ONLINE
SHARE BOOK
QR CODE
Book Description
This book provides an authoritative insight on the Loss and Damage discourse by highlighting state-of-the-art research and policy linked to this discourse and articulating its multiple concepts, principles and methods. Written by leading researchers and practitioners, it identifies practical and evidence-based policy options to inform the discourse and climate negotiations.
With climate-related risks on the rise and impacts being felt around the globe has come the recognition that climate mitigation and adaptation may not be enough to manage the effects from anthropogenic climate change. This recognition led to the creation of the Warsaw International Mechanism on Loss and Damage in 2013, a climate policy mechanism dedicated to dealing with climate-related effects in highly vulnerable countries that face severe constraints and limits to adaptation. Endorsed in 2015 by the Paris Agreement and effectively considered a third pillar of international climate policy, debate and research on Loss and Damage continues to gain enormous traction. Yet, concepts, methods and tools as well as directions for policy and implementation have remained contested and vague.
Suitable for researchers, policy-advisors, practitioners and the interested public, the book furthermore:
- discusses the political, legal, economic and institutional dimensions of the issue;
- highlights normative questions central to the discourse;
- provides a focus on climate risks and climate risk management;
- presents salient case studies from around the world.
This open book is licensed under a Creative Commons License (CC BY). You can download Loss and Damage from Climate Change ebook for free in PDF format (17.9 MB).
Book Details
Publisher
Springer
Published
2019
Pages
563
Edition
1
Language
English
ISBN13
9783319720258
ISBN10
3319720252
ISBN13 Digital
9783319720265
ISBN10 Digital
3319720260
PDF Size
17.9 MB
License

Related Books

Biodiversity and Health in the Face of Climate Change
by Melissa R. Marselle, Jutta Stadler, Horst Korn, Katherine N. Irvine, Aletta Bonn
This book identifies and discusses biodiversity's contribution to physical, mental and spiritual health and wellbeing. Furthermore, the book identifies the implications of this relationship for nature conservation, public health, landscape architecture and urban planning – and considers the opportunities of nature-based solutions for climate chan...

Nature-Based Solutions to Climate Change Adaptation in Urban Areas
by Nadja Kabisch, Horst Korn, Jutta Stadler, Aletta Bonn
This book brings together research findings and experiences from science, policy and practice to highlight and debate the importance of nature-based solutions to climate change adaptation in urban areas. Emphasis is given to the potential of nature-based approaches to create multiple-benefits for society.The expert contributions present recommendat...

Renewing Local Planning to Face Climate Change in the Tropics
by Maurizio Tiepolo, Alessandro Pezzoli, Vieri Tarchiani
This book aims to inspire decision makers and practitioners to change their approach to climate planning in the tropics through the application of modern technologies for characterizing local climate and tracking vulnerability and risk, and using decision-making tools. Drawing on 16 case studies conducted mainly in the Caribbean, Central America, W...

Counteracting Urban Heat Island Effects in a Global Climate Change Scenario
by Francesco Musco
Urban Heat Islands (UHIs) are a microclimatic phenomenon which manifests as a significant increase in the temperature of cities compared to their surrounding areas. Recently the phenomenon has been enforced by the tendency to climate change and in particular by extreme climate events. This book presents and analyzes the results of a project to deve...

The Climate-Smart Agriculture Papers
by Todd S. Rosenstock, Andreea Nowak, Evan Girvetz
This volume shares new data relating to Climate-Smart Agriculture (CSA), with emphasis on experiences in Eastern and Southern Africa. The book is a collection of research by authors from over 30 institutions, spanning the public and private sectors, with specific knowledge on agricultural development in the region discussed. The material is assembl...