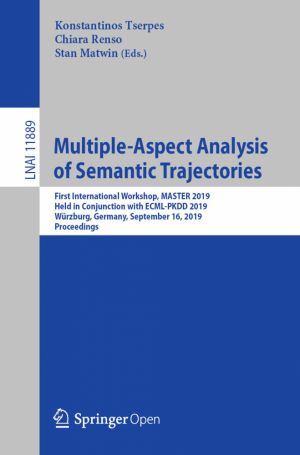 Multiple-Aspect Analysis of Semantic Trajectories
First International Workshop, MASTER 2019, Held in Conjunction with ECML-PKDD 2019, Würzburg, Germany, September 16, 2019, Proceedings
by Konstantinos Tserpes, Chiara Renso, Stan Matwin
DOWNLOAD EBOOK
READ ONLINE
SHARE BOOK
QR CODE
Book Description
This free book constitutes the refereed post-conference proceedings of the First International Workshop on Multiple-Aspect Analysis of Semantic Trajectories, MASTER 2019, held in conjunction with the 19th European Conference on Machine Learning and Knowledge Discovery in Databases, ECML PKDD 2019, in Würzburg, Germany, in September 2019. The 8 full papers presented were carefully reviewed and selected from 12 submissions. They represent an interesting mix of techniques to solve recurrent as well as new problems in the semantic trajectory domain, such as data representation models, data management systems, machine learning approaches for anomaly detection, and common pathways identification.
This open book is licensed under a Creative Commons License (CC BY). You can download Multiple-Aspect Analysis of Semantic Trajectories ebook for free in PDF format (13.4 MB).
Book Details
Subject
Computer Science
Publisher
Springer
Published
2020
Pages
142
Edition
1
Language
English
ISBN13
9783030380809
ISBN10
3030380807
ISBN13 Digital
9783030380816
ISBN10 Digital
3030380815
PDF Size
13.4 MB
License

Related Books

Tools and Algorithms for the Construction and Analysis of Systems
by Dirk Beyer, Marieke Huisman, Fabrice Kordon, Bernhard Steffen
This book constitutes the refereed proceedings of the 7th International Conference on Tools and Algorithms for the Construction and Analysis of Systems, TACAS 2001. The 36 revised full papers presented together with an invited contribution were carefully reviewed and selected from a total of 125 submissions. The papers are organized in sections on ...

Tools and Algorithms for the Construction and Analysis of Systems
by Tomáš Vojnar, Lijun Zhang
The LNCS 11427 and 11428 proceedings set constitutes the proceedings of the 25th International Conference on Tools and Algorithms for the Construction and Analysis of Systems, TACAS 2019, which took place in Prague, Czech Republic, in April 2019, held as part of the European Joint Conferences on Theory and Practice of Software, ETAPS 2019. The tot...

Modern Mathematics Education for Engineering Curricula in Europe
by Seppo Pohjolainen, Tuomas Myllykoski, Christian Mercat, Sergey Sosnovsky
This book provides a comprehensive overview of the core subjects comprising mathematical curricula for engineering studies in five European countries and identifies differences between two strong traditions of teaching mathematics to engineers. The collective work of experts from a dozen universities critically examines various aspects of higher ma...

Nils Petter Gleditsch: Pioneer in the Analysis of War and Peace
by Nils Petter Gleditsch
This book presents Nils Petter Gleditsch, a staff member of the Peace Research Institute of Oslo (PRIO) since 1964, a former editor of the Journal for Peace Research (1983-2010), a former president of the International Studies Association (2008-2009) and the recipient of several academic awards as a pioneer in the scientific analysis of war and pea...

Microfinance, EU Structural Funds and Capacity Building for Managing Authorities
by Giovanni Nicola Pes, Pasqualina Porretta
In recent years, the European Commission has attached increasing importance to the use of financial engineering instruments rather than traditional grant-based financing for the microcredit sector, considering these to be the most efficient option available. This book presents a study of capacity building and structural funds in public managing au...

Sequence Analysis and Related Approaches
by Gilbert Ritschard, Matthias Studer
This open access book provides innovative methods and original applications of sequence analysis (SA) and related methods for analysing longitudinal data describing life trajectories such as professional careers, family paths, the succession of health statuses, or the time use. The applications as well as the methodological contributions propo...