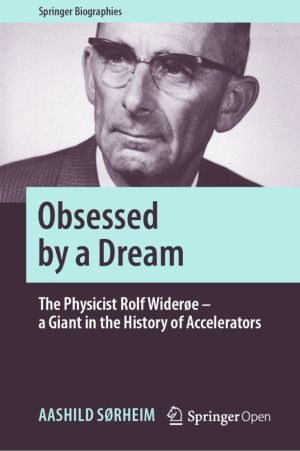 Book Description
This Open Access biography chronicles the life and achievements of the Norwegian engineer and physicist Rolf Widerøe. Readers who meet him in the pages of this book will wonder why he isn't better known.
The first of Widerøe's many pioneering contributions in the field of accelerator physics was the betatron. He later went on to build the first radiation therapy machine, an advance that would eventually revolutionize cancer treatment. Hospitals worldwide installed his machine, and today's modern radiation treatment equipment is based on his inventions. Widerøe's story also includes a fair share of drama, particularly during World War II when both Germans and the Allies vied for his collaboration. Widerøe held leading positions in multinational industry groups and was one of the consultants for building the world's largest nuclear laboratory, CERN, in Switzerland. He gained over 200 patents, received several honorary doctorates and a number of international awards.The author, a professional writer and maker of TV documentaries, has gained access to hitherto restricted archives in several countries, which provided a wealth of new material and insights, in particular in relation to the war years. She tells here a gripping and illuminating story.
This open book is licensed under a Creative Commons License (CC BY-NC-ND). You can download Obsessed by a Dream ebook for free in PDF format (7.2 MB).
Book Details
Publisher
Springer
Published
2020
Pages
544
Edition
1
Language
English
ISBN13
9783030263379
ISBN10
3030263371
ISBN13 Digital
9783030263386
ISBN10 Digital
303026338X
PDF Size
7.2 MB
License

Related Books

The European Landing Obligation
by Sven Sebastian Uhlmann, Clara Ulrich, Steven J. Kennelly
This book provides a comprehensive examination of the European Landing Obligation policy from many relevant perspectives. It includes evaluations of its impacts at economical, socio-cultural, ecological and institutional levels. It also discusses the feasibility and benefits of several potential mitigation strategies. The book was timely published,...

Java Notes for Professionals
by GoalKicker
The Java Notes for Professionals book is compiled from Stack Overflow Documentation, the content is written by the beautiful people at Stack Overflow....

IUTAM
by Peter Eberhard, Stephen Juhasz
This book presents extensive information related to the history of IUTAM. The initial chapters focus on IUTAM's history and selected organizational aspects. Subsequent chapters provide extensive data and statistics, while the closing section showcases photos from all periods of the Union's history.The history of IUTAM, the International Union on Th...

Advances in Discrete Differential Geometry
by Alexander I. Bobenko
This is one of the first books on a newly emerging field of discrete differential geometry and an excellent way to access this exciting area. It surveys the fascinating connections between discrete models in differential geometry and complex analysis, integrable systems and applications in computer graphics. The authors take a closer look at discre...

The Dynamics of Opportunity in America
by Irwin Kirsch, Henry Braun
Across the country, our children are beginning life from very different starting points. Some have aspirations and believe they can be achieved. For too many others, aspirations are tempered, if not dashed, by the sobering realities of everyday life. These different starting points place children on distinctly different trajectories of growth and d...