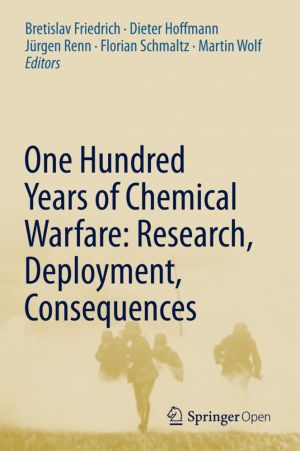 Book Description
Carried by a long-awaited wind, the chlorine cloud passed within a few minutes through the British and French trenches, leaving behind at least 1,000 dead and 4,000 injured. This chemical attack, which amounted to the first use of a weapon of mass destruction, marks a turning point in world history. The preparation as well as the execution of the gas attack was orchestrated by Fritz Haber, the director of the Kaiser Wilhelm Institute for Physical Chemistry and Electrochemistry in Berlin-Dahlem. During World War I, Haber transformed his research institute into a center for the development of chemical weapons (and of the means of protection against them).Bretislav Friedrich and Martin Wolf (Fritz Haber Institute of the Max Planck Society, the successor institution of Haber's institute) together with Dieter Hoffmann, Jürgen Renn, and Florian Schmaltz (Max Planck Institute for the History of Science) organized an international symposium to commemorate the centenary of the infamous chemical attack. The symposium examined crucial facets of chemical warfare from the first research on and deployment of chemical weapons in WWI to the development and use of chemical warfare during the century hence. The focus was on scientific, ethical, legal, and political issues of chemical weapons research and deployment — including the issue of dual use — as well as the ongoing effort to control the possession of chemical weapons and to ultimately achieve their elimination.The volume consists of papers presented at the symposium and supplemented by additional articles that together cover key aspects of chemical warfare from 22 April 1915 until the summer of 2015.
This open book is licensed under a Creative Commons License (CC BY-NC). You can download One Hundred Years of Chemical Warfare: Research, Deployment, Consequences ebook for free in PDF format (9.1 MB).
Book Details
Subject
History
Publisher
Springer
Published
2017
Pages
404
Edition
1
Language
English
ISBN13
9783319516639
ISBN10
3319516639
ISBN13 Digital
9783319516646
ISBN10 Digital
3319516647
PDF Size
9.1 MB
License

Related Books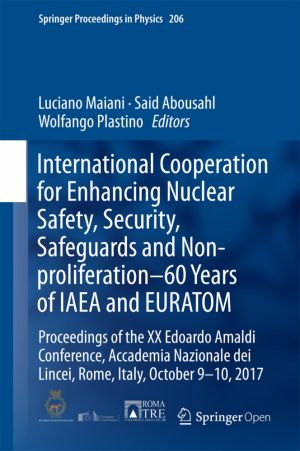 International Cooperation for Enhancing Nuclear Safety, Security, Safeguards and Non-proliferation–60 Years of IAEA and EURATOM
by Luciano Maiani, Said Abousahl, Wolfango Plastino
This book examines key aspects of international cooperation to enhance nuclear safety, security, safeguards, and non-proliferation, thereby assisting in development and maintenance of the verification regime and fostering progress toward a nuclear weapon-free world. The book opens by addressing important political, institutional, and legal dimensio...

Socioeconomic Inequality and Educational Outcomes
by Markus Broer, Yifan Bai, Frank Fonseca
This open-access book focuses on trends in educational inequality using twenty years of grade 8 student data collected from 13 education systems by the IEA's Trends in Mathematics and Science Study (TIMSS) between 1995 and 2015. While the overall positive association between family socioeconomic status (SES) and student achievement is well document...

Cold Micro Metal Forming
by Frank Vollertsen, Sybille Friedrich, Bernd Kuhfuß, Peter Maaß, Claus Thomy, Hans-Werner Zoch
This book contains the research report of the Collaborative Research Center "Micro Cold Forming" (SFB 747) of the University of Bremen, Germany. The topical research focus lies on new methods and processes for a mastered mass production of micro parts which are smaller than 1mm (by forming in batch size higher than one million). The targe...

Intel Galileo and Intel Galileo Gen 2
by Manoel Carlos Ramon
Intel Galileo and Intel Galileo Gen 2: API Features and Arduino Projects for Linux Programmers provides detailed information about Intel Galileo and Intel Galileo Gen 2 boards for all software developers interested in Arduino and the Linux platform. The book covers the new Arduino APIs and is an introduction for developers on natively using Linux. ...

Knowledge and Action
by Peter Meusburger, Benno Werlen, Laura Suarsana
This volume explores interdependencies between knowledge, action, and space from different interdisciplinary perspectives. Some of the contributors discuss knowledge as a social construct based on collective action, while others look at knowledge as an individual capacity for action. The chapters contain theoretical frameworks as well as experiment...

The Codes of the Street in Risky Neighborhoods
by Wilhelm Heitmeyer, Simon Howell, Sebastian Kurtenbach, Abdul Rauf, Muhammad Zaman, Steffen Zdun
This book presents a comparative look at the norms and attitudes related to youth violence. It aims to present a perspective outside of the typical Western context, through case studies comparing a developed / Western democracy (Germany), a country with a history of institutionalized violence (South Africa), and an emerging democracy that has exper...