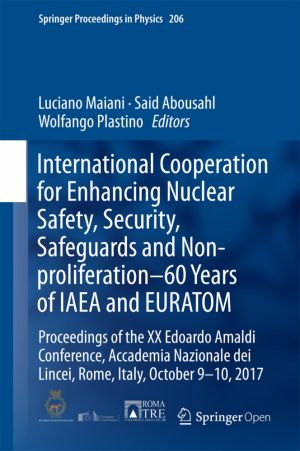 International Cooperation for Enhancing Nuclear Safety, Security, Safeguards and Non-proliferation–60 Years of IAEA and EURATOM
Proceedings of the XX Edoardo Amaldi Conference, Accademia Nazionale dei Lincei, Rome, Italy, October 9-10, 2017
by Luciano Maiani, Said Abousahl, Wolfango Plastino
DOWNLOAD EBOOK
READ ONLINE
SHARE BOOK
QR CODE
Book Description
This book examines key aspects of international cooperation to enhance nuclear safety, security, safeguards, and non-proliferation, thereby assisting in development and maintenance of the verification regime and fostering progress toward a nuclear weapon-free world. The book opens by addressing important political, institutional, and legal dimensions. Current challenges are discussed and attempts made to identify possible solutions and future improvements. Subsequent sections consider scientific developments that have the potential to increase the effectiveness of implementation of international regimes, particularly in critical areas, technology foresight, and the ongoing evaluation of current capabilities. The closing sections examine scientific and technical challenges and discuss the role of international cooperation and actions of the scientific community in leading the world toward peace and security. The book – which celebrates 60 years of IAEA Atoms for Peace and Development and the EURATOM Treaty – comprises contributions presented at the XX Edoardo Amaldi Conference, where eminent scientists, diplomats, and policymakers were able to compare national perspectives and update international collaborations.
This open book is licensed under a Creative Commons License (CC BY). You can download International Cooperation for Enhancing Nuclear Safety, Security, Safeguards and Non-proliferation–60 Years of IAEA and EURATOM ebook for free in PDF format (4.1 MB).
Book Details
Publisher
Springer
Published
2018
Pages
231
Edition
1
Language
English
ISBN13
9783662573655
ISBN10
3662573652
ISBN13 Digital
9783662573662
ISBN10 Digital
3662573660
PDF Size
4.1 MB
License

Related Books

Resilience: A New Paradigm of Nuclear Safety
by Joonhong Ahn, Franck Guarnieri, Kazuo Furuta
This book summarizes presentations and discussions from the two-day international workshop held at UC Berkeley in March 2015, and derives questions to be addressed in multi-disciplinary research toward a new paradigm of nuclear safety. The consequences of the Fukushima Daiichi nuclear accident in March 2011 have fuelled the debate on nuclear safet...

Programming for Computations - Python
by Svein Linge, Hans Petter Langtangen
This book presents computer programming as a key method for solving mathematical problems. This second edition of the well-received book has been extensively revised: All code is now written in Python version 3.6 (no longer version 2.7). In addition, the two first chapters of the previous edition have been extended and split up into five new chapte...

Collaboration in Designing a Pedagogical Approach in Information Literacy
by Ane Landøy, Daniela Popa, Angela Repanovici
This Open Access book combines expertise in information literacy with expertise in education and teaching to share tips and tricks for the development of good information literacy teaching and training in universities and libraries. It draws on research, knowledge and pedagogical practice from academia, to teach students how to sift through informa...

Russia's Turn to the East
by Helge Blakkisrud, Elana Wilson Rowe
This book explores if and how Russian policies towards the Far East region of the country – and East Asia more broadly – have changed since the onset of the Ukraine crisis and Russia's annexation of Crimea. Following the 2014 annexation and the subsequent enactment of a sanctions regime against the country, the Kremlin has emphasized the easter...

Snow Sports Trauma and Safety
by Irving S. Scher, Richard M. Greenwald, Nicola Petrone
This book covers the latest in snow sport epidemiology, snow sport injuries and treatment, and biomechanical/mechanical engineering related to snow sports injuries (mechanisms of injury, injury prevention by equipment design, injury prevention by design of resort features, and more). It brings together a collection of papers from the International ...