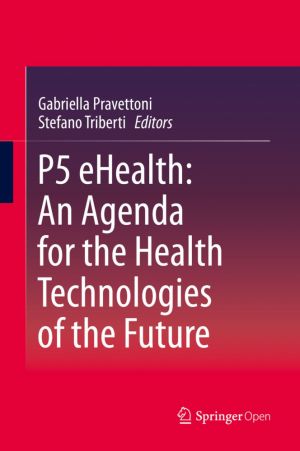 Book Description
This open access volume focuses on the development of a P5 eHealth, or better, a methodological resource for developing the health technologies of the future, based on patients' personal characteristics and needs as the fundamental guidelines for design. It provides practical guidelines and evidence based examples on how to design, implement, use and elevate new technologies for healthcare to support the management of incurable, chronic conditions. The volume further discusses the criticalities of eHealth, why it is difficult to employ eHealth from an organizational point of view or why patients do not always accept the technology, and how eHealth interventions can be improved in the future. By dealing with the state-of-the-art in eHealth technologies, this volume is of great interest to researchers in the field of physical and mental healthcare, psychologists, stakeholders and policymakers as well as technology developers working in the healthcare sector.
This open book is licensed under a Creative Commons License (CC BY). You can download P5 eHealth: An Agenda for the Health Technologies of the Future ebook for free in PDF format (3.3 MB).
Book Details
Subject
Psychology
Publisher
Springer
Published
2020
Pages
191
Edition
1
Language
English
ISBN13
9783030279936
ISBN10
3030279936
ISBN13 Digital
9783030279943
ISBN10 Digital
3030279944
PDF Size
3.3 MB
License

Related Books

The Academic Book of the Future
by Rebecca E. Lyons, Samantha J. Rayner
Part of the AHRC/British Library Academic Book of the Future Project, this book interrogates current and emerging contexts of academic books from the perspectives of thirteen expert voices from the connected communities of publishing, academia, libraries, and bookselling....

The Everyday Life of an Algorithm
by Daniel Neyland
This book begins with an algorithm - a set of IF...THEN rules used in the development of a new, ethical, video surveillance architecture for transport hubs. Readers are invited to follow the algorithm over three years, charting its everyday life. Questions of ethics, transparency, accountability and market value must be grasped by the algorithm in ...

Techlash
by Ian I. Mitroff, Rune Storesund
Technology has made human lives incomparably better. Civilization as we know it would utterly collapse without it. However, if not properly managed, technology can and will be systematically abused and misuse and thereby become one of the biggest threats to humankind. This open access book applies proactive crisis management to the management of te...

Reconsidering Constitutional Formation I National Sovereignty
by Ulrike Müßig
Legal studies and consequently legal history focus on constitutional documents, believing in a nominalist autonomy of constitutional semantics.Reconsidering Constitutional Formation in the late 18th and 19th century, kept historic constitutions from being simply log-books for political experts through a functional approach to the interdependencies ...

Cold Micro Metal Forming
by Frank Vollertsen, Sybille Friedrich, Bernd Kuhfuß, Peter Maaß, Claus Thomy, Hans-Werner Zoch
This book contains the research report of the Collaborative Research Center "Micro Cold Forming" (SFB 747) of the University of Bremen, Germany. The topical research focus lies on new methods and processes for a mastered mass production of micro parts which are smaller than 1mm (by forming in batch size higher than one million). The targe...

Self-Reported Population Health: An International Perspective based on EQ-5D
by Agota Szende, Bas Janssen, Juan Cabases
The EQ-5D instrument, as a standardized, cross-culturally validated measure of self-assessed health has a hugely important role in understanding population health within and across countries. Over the past two decades a wealth of international population health survey data have been accumulated by the EuroQol Group from research conducted in many c...