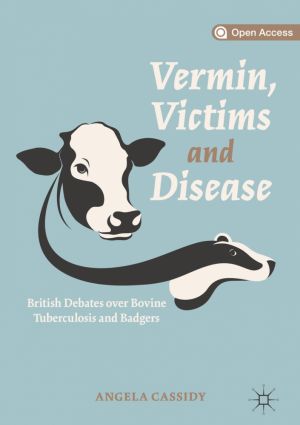 Book Description
"Dr Cassidy draws pertinent general conclusions about generating policy and mediating the role of the expert in today's science-sceptic and increasingly polarised society... It is both a useful and original contribution, specifically to the history of zoonotic disease policy, and policy history more generally."—Helen Bynum, Author of Spitting Blood: The History of Tuberculosis (2012) This open access book provides the first critical history of the controversy over whether to cull wild badgers to control the spread of bovine tuberculosis (bTB) in British cattle. This question has plagued several professional generations of politicians, policymakers, experts and campaigners since the early 1970s. Questions of what is known, who knows, who cares, who to trust and what to do about this complex problem have been the source of scientific, policy, and increasingly vociferous public debate ever since. This book integrates contemporary history, science and technology studies, human-animal relations, and policy research to conduct a cross-cutting analysis. It explores the worldviews of those involved with animal health, disease ecology and badger protection between the 1970s and 1990s, before reintegrating them to investigate the recent public polarisation of the controversy. Finally it asks how we might move beyond the current impasse.
This open book is licensed under a Creative Commons License (CC BY). You can download Vermin, Victims and Disease ebook for free in PDF format (5.2 MB).
Book Details
Subject
History
Publisher
Palgrave Macmillan
Published
2019
Pages
375
Edition
1
Language
English
ISBN13
9783030191856
ISBN10
3030191850
ISBN13 Digital
9783030191863
ISBN10 Digital
3030191869
PDF Size
5.2 MB
License

Related Books

Handbook of Pathogens and Diseases in Cephalopods
by Camino Gestal, Santiago Pascual, Ángel Guerra, Graziano Fiorito, Juan M. Vieites
The aim of this book is to facilitate the identification and description of the different organs as well as pathogens and diseases affecting the most representative species of cephalopods focussed on Sepia officinalis, Loligo vulgaris and Octopus vulgaris. These species are valuable 'morphotype' models and belong to the taxonomic groups Sepioidea, ...

Buruli Ulcer
by Gerd Pluschke, Katharina Röltgen
A major objective of this book is to summarize the current status of Buruli Ulcer (BU) research for the first time. It will identify gaps in our knowledge, stimulate research and support control of the disease by providing insight into approaches for surveillance, diagnosis, and treatment of Buruli Ulcer. Book chapters will cover the history, epide...

The Biopsychosocial Model of Health and Disease
by Derek Bolton, Grant Gillett
'This is an incredibly audacious book. Derek Bolton and Grant Gillett brilliantly succeed in providing the big picture that was lacking in the defense of the biopsychosocial model promoted by Engel 40 years ago.' - Steeves Demazeux, Assistant Professor in philosophy, Bordeaux-Montaigne University, FranceThis book is a systematic update of the philo...

Hormones, Metabolism and the Benefits of Exercise
by Bruce Spiegelman
The world is faced with an epidemic of metabolic diseases such as obesity and type 2 diabetes. This is due to changes in dietary habits and the decrease in physical activity. Exercise is usually part of the prescription, the first line of defense, to prevent or treat metabolic disorders. However, we are still learning how and why exercise provides ...

Handbook of Life Course Health Development
by Neal Halfon, Christopher B. Forrest, Richard M. Lerner, Elaine M. Faustman
This handbook synthesizes and analyzes the growing knowledge base on life course health development (LCHD) from the prenatal period through emerging adulthood, with implications for clinical practice and public health. It presents LCHD as an innovative field with a sound theoretical framework for understanding wellness and disease from a lifespan p...