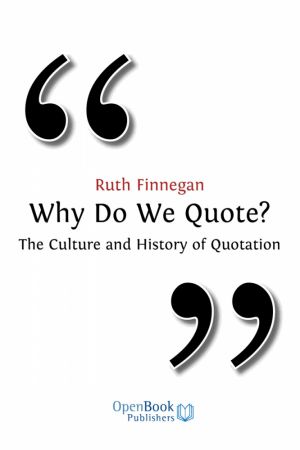 Book Description
Quoting is all around us. But do we really know what it means? How do people actually quote today, and how did our present systems come about? This book brings together a down-to-earth account of contemporary quoting with an examination of the comparative and historical background that lies behind it and the characteristic way that quoting links past and present, the far and the near.
Drawing from anthropology, cultural history, folklore, cultural studies, sociolinguistics, literary studies and the ethnography of speaking, Ruth Finnegan's fascinating study sets our present conventions into cross-cultural and historical perspective. She traces the curious history of quotation marks, examines the long tradition of quotation collections with their remarkable recycling across the centuries, and explores the uses of quotation in literary, visual and oral traditions. The book tracks the changing definitions and control of quoting over the millennia and in doing so throws new light on ideas such as 'imitation', 'allusion', 'authorship', 'originality' and 'plagiarism'.
This open book is licensed under a Creative Commons License (CC BY-NC-ND). You can download Why Do We Quote? ebook for free in PDF format (4.7 MB).
Table of Contents
Part I
SETTING THE PRESENT SCENE
Chapter 1
Prelude: a dip in quoting's ocean
Chapter 2
Tastes of the present: the here and now of quoting
Chapter 3
Putting others' words on stage: arts and ambiguities of today's quoting
Part II
BEYOND THE HERE AND NOW
Chapter 4
Quotation marks present, past, and future
Chapter 5
Harvesting others' words: the long tradition of quotation collections
Chapter 6
Quotation in sight and sound
Chapter 7
Arts and rites of quoting
Chapter 8
Controlling quotation: the regulation of others' words and voices
Part III
DISTANCE AND PRESENCE
Chapter 9
What is quotation and why do we do it?
Appendix 1
Quoting the academics
Appendix 2
List of the Mass Observation writers
Book Details
Publisher
Open Book Publishers
Published
2011
Pages
350
Edition
1
Language
English
ISBN13
9781906924331
ISBN10
1906924333
ISBN13 Digital
9781906924355
ISBN10 Digital
190692435X
PDF Size
4.7 MB
License

Related Books

What Is Data Science?
by Mike Loukides
We've all heard it: according to Hal Varian, statistics is the next sexy job. Five years ago, in What is Web 2.0, Tim O'Reilly said that "data is the next Intel Inside." But what does that statement mean? Why do we suddenly care about statistics and about data? This report examines the many sides of data science - the technologies, the co...

Manifesto of the New Economy
by Alexander Dolgin
How do social networking services earn money?What is the "second hand of the market" and how does it operate? Why does society need so many different kinds of goods? What does happiness economics not reveal about happiness?What is the link between talent, success and "stardom"? What is the business development model for the ent...

Demystifying Climate Models
by Andrew Gettelman, Richard Rood
This book demystifies the models we use to simulate present and future climates, allowing readers to better understand how to use climate model results. In order to predict the future trajectory of the Earth's climate, climate-system simulation models are necessary. When and how do we trust climate model predictions? The book offers a framework for...

The Early Years
by Samuel Berlinski, Norbert Schady
The Early Years analyzes the development of Latin American and Caribbean children and makes a compelling case for government intervention in what is instinctively a family affair. Spending on effective programs for young children is an investment that, if done well, will have very high returns, while failure to implement such programs will lower th...

Wellbeing, Freedom and Social Justice
by Ingrid Robeyns
How do we evaluate ambiguous concepts such as wellbeing, freedom, and social justice? How do we develop policies that offer everyone the best chance to achieve what they want from life? The capability approach, a theoretical framework pioneered by the philosopher and economist Amartya Sen in the 1980s, has become an increasingly influential way to ...

Divorce in Europe
by Dimitri Mortelmans
This free book collects the major discussions in divorce research in Europe. It starts with an understanding of divorce trends. Why was divorce increasing so rapidly throughout the US and Europe and do we see signs of a turn? Do cohabitation breakups influence divorce trends or is there a renewed stability on the partner market?In terms of divorce...