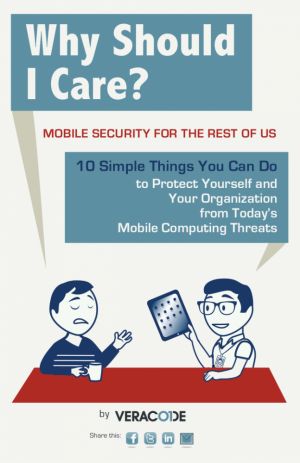 Why Should I Care? Mobile Security for The Rest of Us
10 Simple Things You Can Do to Protect Yourself and Your Organization from Today's Mobile Computing Threats
by Veracode
DOWNLOAD EBOOK
READ ONLINE
SHARE BOOK
QR CODE
Book Description
I've already accepted the fact that Bring-Your-Own-Device (BYOD) is a business trend that's here to stay. According to one report I recently read, just 23 percent of enterprise employees use company-sanctioned mobile devices only - meaning 77 percent of employees are using their own devices in some capacity to do their job. 1 As the Chief Information Security Officer (CISO) at Veracode I have experienced this trend firsthand and if it hasn't hit you yet, the BYOD tidal wave is coming your way!
This book lists 10 simple things that every business user can do to help protect their personal information as well as their company's data, IP and brand when they use their mobile devices at work. We've made every effort to make our mobile security story a fun one to read. Some of the details around the mobile security stack can be tedious, but it's hard to resist when the stack looks like a club sandwich!
This open book is licensed under a Creative Commons License (CC BY). You can download Why Should I Care? Mobile Security for The Rest of Us ebook for free in PDF format (1.5 MB).
Table of Contents
Part I
It's Scary Out There
2
Part II
Whose Job Is It Anyway?
14
Part III
10 Ways to Secure Your Mobile Gadget
24
Book Details
Subject
Computer Science
Publisher
Self-publishing
Published
2012
Pages
46
Edition
1
Language
English
PDF Size
1.5 MB
License

Related Books

Fulfilling the Promise of Technology Transfer
by Koichi Hishida
Universities and research institutes are increasingly expected to contribute to society by creating innovation from the returns of their research results and the establishment of new technologies. Toward that goal, Keio University in Japan held an international symposium titled "Fulfilling the Promise of Technology Transfer: Fostering Innovati...

Intelligent Human Computer Interaction
by Patrick Horain, Catherine Achard, Malik Mallem
This book constitutes the thoroughly refereed proceedings of the 9th International Conference on Intelligent Human Computer Interaction, IHCI 2017, held in Evry, France, in December 2017. The 15 papers presented together with three invited papers were carefully reviewed and selected from 25 submissions. The conference is forum for the presentation...

Rethinking the Internet of Things
by Francis daCosta, Byron Henderson
Rethinking the Internet of Things was a 2014 Jolt Award Finalist, the highest honor for a programming book. And the amazing part is that there is no code in the book. Over the next decade, most devices connected to the Internet will not be used by people in the familiar way that personal computers, tablets and smart phones are. Billions of inter...

Critical Perspectives on the Scholarship of Assessment and Learning in Law
by Alison Bone, Paul Maharg
The Assessment in Legal Education book series offers perspectives on assessment in legal education across a range of Common Law jurisdictions. Each volume in the series provides: Information on assessment practices and cultures within a jurisdiction.A sample of innovative assessment practices and designs in a jurisdiction.Insights into how assessm...

Preparing for Life in a Digital Age
by Julian Fraillon, John Ainley, Wolfram Schulz, Tim Friedman, Eveline Gebhardt
Ability to use information and communication technologies (ICT) is an imperative for effective participation in today's digital age. Schools worldwide are responding to the need to provide young people with that ability. But how effective are they in this regard? The IEA International Computer and Information Literacy Study (ICILS) responded to thi...