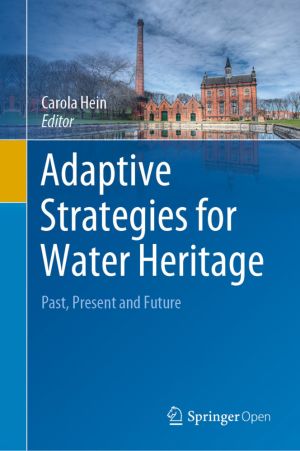 Book Description
This book, building on research initiated by scholars from the Leiden-Delft-Erasmus Centre for Global Heritage and Development (CHGD) and ICOMOS Netherlands, presents multidisciplinary research that connects water to heritage. Through twenty-one chapters it explores landscapes, cities, engineering structures and buildings from around the world. It describes how people have actively shaped the course, form and function of water for human settlement and the development of civilizations, establishing socio-economic structures, policies and cultures; a rich world of narratives, laws and practices; and an extensive network of infrastructure, buildings and urban form.
The book is organized in five thematic sections that link practices of the past to the design of the present and visions of the future: part I discusses drinking water management; part II addresses water use in agriculture; part III explores water management for land reclamation and defense; part IV examines river and coastal planning; and part V focuses on port cities and waterfront regeneration.Today, the many complex systems of the past are necessarily the basis for new systems that both preserve the past and manage water today: policy makers and designers can work together to recognize and build on the traditional knowledge and skills that old structure embody. This book argues that there is a need for a common agenda and an integrated policy that addresses the preservation, transformation and adaptive reuse of historic water-related structures. Throughout, it imagines how such efforts will help us develop sustainable futures for cities, landscapes and bodies of water.
This open book is licensed under a Creative Commons License (CC BY-NC-ND). You can download Adaptive Strategies for Water Heritage ebook for free in PDF format (31.4 MB).
Book Details
Publisher
Springer
Published
2020
Pages
448
Edition
1
Language
English
ISBN13
9783030002671
ISBN10
3030002675
ISBN13 Digital
9783030002688
ISBN10 Digital
3030002683
PDF Size
31.4 MB
License

Related Books

Safer Healthcare
by Charles Vincent, René Amalberti
The authors of this book set out a system of safety strategies and interventions for managing patient safety on a day-to-day basis and improving safety over the long term. These strategies are applicable at all levels of the healthcare system from the frontline to the regulation and governance of the system. There have been many advances in patien...

Governance for Drought Resilience
by Hans Bressers, Nanny Bressers, Corinne Larrue
This book presents the findings of a team of scientists and practitioners who have been working on the project "Benefits of Governance in Drought Adaptation" (in short: the DROP project), which is included in the European Union's INTERREG IVB NWE programme. The DROP governance team developed a Governance Assessment Tool (GAT), which allow...

Environmental Governance in Latin America
by Fábio de Castro, Barbara Hogenboom, Michiel Baud
The multiple purposes of nature - livelihood for communities, revenues for states, commodities for companies, and biodiversity for conservationists - have turned environmental governance in Latin America into a highly contested arena. In such a resource-rich region, unequal power relations, conflicting priorities, and trade-offs among multiple goal...

Freshwater Governance for the 21st Century
by Eiman Karar
The objective of this book is to broadly illustrate the key aspects of water governance, mapping the spectrum of decision-making from techno-centric and eco-centric approaches, to hybrid concepts and people-centric approaches. Topics covered include the challenges for water-governance models, the polycentric model, the integration challenge, water ...

Theoretical and Practical Advances in Computer-based Educational Measurement
by Bernard Veldkamp, Cor Sluijter
This book presents a multitude of different, yet related, innovations in educational measurement and provides insight in their practical possibilities.The book not only addresses several improvements in the quality of educational measurement and innovations in (inter)national large scale assessments, but also several advances in psychometrics and i...