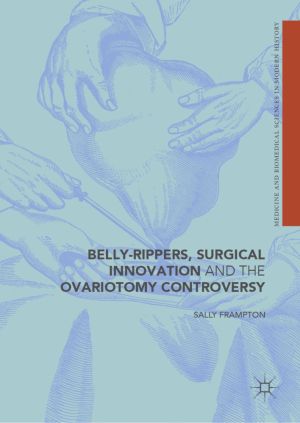 Book Description
This book looks at the dramatic history of ovariotomy, an operation to remove ovarian tumours first practiced in the early nineteenth century. Bold and daring, surgeons who performed it claimed to be initiating a new era of surgery by opening the abdomen. Ovariotomy soon occupied a complex position within medicine and society, as an operation which symbolised surgical progress, while also remaining at the boundaries of ethical acceptability. This book traces the operation's innovation, from its roots in eighteenth-century pathology, through the denouncement of those who performed it as 'belly-rippers', to its rapid uptake in the 1880s, when ovariotomists were accused of over-operating. Throughout the century, the operation was never a hair's breadth from controversy.
This open book is licensed under a Creative Commons License (CC BY). You can download Belly-Rippers, Surgical Innovation and the Ovariotomy Controversy ebook for free in PDF format (3.6 MB).
Book Details
Subject
History
Publisher
Palgrave Macmillan
Published
2018
Pages
277
Edition
1
Language
English
ISBN13
9783319786100
ISBN10
3319786105
ISBN13 Digital
9783319789347
ISBN10 Digital
3319789341
PDF Size
3.6 MB
License

Related Books

Architecture and the Novel under the Italian Fascist Regime
by Francesca Billiani, Laura Pennacchietti
Architecture and the Novel under the Italian Fascist Regime discusses the relationship between the novel and architecture during the Fascist period in Italy (1922-1943). By looking at two profoundly diverse aesthetic phenomena within the context of the creation of a Fascist State art, Billiani and Pennacchietti argue that an effort of construction,...

Energy and the Wealth of Nations
by Charles A.S. Hall, Kent Klitgaard
In this updated edition of a groundbreaking text, concepts such as energy return on investment (EROI) provide powerful insights into the real balance sheets that drive our "petroleum economy." Hall and Klitgaard explore the relation between energy and the wealth explosion of the 20th century, and the interaction of internal limits to grow...

The Entrepreneurial Society
by Mark Sanders, Axel Marx, Mikael Stenkula
This book is an outcome of the EU's Horizon 2020 project 'Financial and Institutional Reforms for an Entrepreneurial Society' (FIRES). Building on historical, economic and legal analysis, and combining methods and data across disciplines, the authors provide policymakers, stakeholders and scholars with valuable new tools for assessing and improving...

Building a Cashless Society
by Niklas Arvidsson
This free book tells the story of how Sweden is becoming a virtually cashless society. Its goal is to improve readers' understanding of what is driving this transition, and of the factors that are fostering and hampering it. In doing so, the book covers the role of central banks, political factors, needs for innovation, and the stakeholders involve...

Geographies of Asylum in Europe and the Role of European Localities
by Birgit Glorius, Jeroen Doomernik
This book describes how the numerous arrivals of asylum seekers since 2015 shaped reception and integration processes in Europe. It addresses the structuration of asylum and reception systems, and spaces and places of reception on European, national, regional and local level. It also analyses perceptions and discourses on asylum and refugees, their...

Computation and the Humanities
by Julianne Nyhan, Andrew Flinn
This book addresses the application of computing to cultural heritage and the discipline of Digital Humanities that formed around it. Digital Humanities research is transforming how the Human record can be transmitted, shaped, understood, questioned and imagined and it has been ongoing for more than 70 years. However, we have no comprehensive histo...