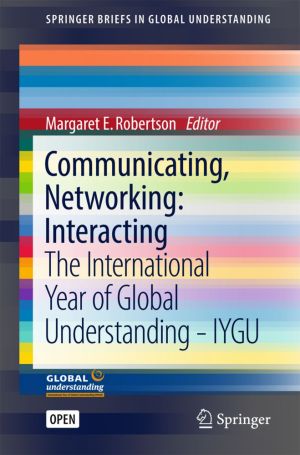 Book Description
This book illustrates the benefits to be gained from digitally networked communication for health, education and transitioning economies in developing nations (Sierra Leone and Papua New Guinea) and developed nations. Growing powers of e-citizenship can help build sustainable futures. This small volume provides a collection of examples and ideas from which the authors hope will help build a wider resource. Understanding how to link everyday lives with global networks in the digital world in ways that add benefit for the world's people, and the health of the planet, is an ongoing project.
IYGU recognises the integral roles of networking and communication systems, as well as interactions between people, near and far, as fundamental for building better futures. The global penetration of digital devices means everyday life, present and future, is inextricably linked with information technologies
This open book is licensed under a Creative Commons License (CC BY). You can download Communicating, Networking: Interacting ebook for free in PDF format (1.8 MB).
Book Details
Publisher
Springer
Published
2016
Pages
86
Edition
1
Language
English
ISBN13
9783319454702
ISBN10
3319454706
ISBN13 Digital
9783319454719
ISBN10 Digital
3319454714
PDF Size
1.8 MB
License

Related Books

Theories in and of Mathematics Education
by Angelika Bikner-Ahsbahs, Andreas Vohns, Oliver Schmitt, Regina Bruder, Willi Dörfler
This survey provides an overview of German meta-discourse on theories and mathematics education as a scientific discipline, from the 1970s to the 1990s. Two theory strands are offered: a semiotic view related to Peirce and Wittgenstein (presented by Willibald Dörfler), and the theory of learning activity by Joachim Lompscher (presented by Regina B...

Windows PowerShell Networking Guide
by Ed Wilson
This book helps you understand how PowerShell can be used to manage the networking aspects of your server and client computers....

Rethinking the Internet of Things
by Francis daCosta, Byron Henderson
Rethinking the Internet of Things was a 2014 Jolt Award Finalist, the highest honor for a programming book. And the amazing part is that there is no code in the book. Over the next decade, most devices connected to the Internet will not be used by people in the familiar way that personal computers, tablets and smart phones are. Billions of inter...

The Linux Command Line
by William Shotts
The Linux Command Line takes you from your very first terminal keystrokes to writing full programs in Bash, the most popular Linux shell (or command line). Along the way you'll learn the timeless skills handed down by generations of experienced, mouse-shunning gurus: file navigation, environment configuration, command chaining, pattern matching wit...

Learn BlackBerry 10 App Development
by Anwar Ludin
Learn how to leverage the BlackBerry 10 Cascades framework to create rich native applications. Learn BlackBerry 10 App Development gives you a solid foundation for creating BlackBerry 10 apps efficiently. Along the way, you will learn how to use QML and JavaScript for designing your app's UI, and C++/Qt for the application logic. No prior knowledge...