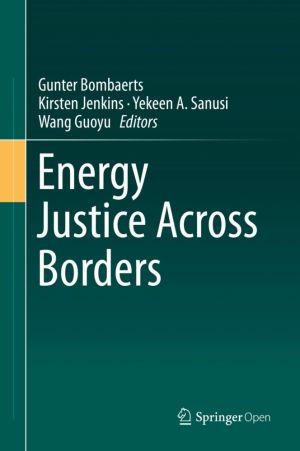 Book Description
We must find new and innovative ways of conceptualizing transboundary energy issues, of embedding concerns of ethics or justice into energy policy, and of operationalizing response to them. This book stems from the emergent gap; the need for comparative approaches to energy justice, and for those that consider ethical traditions that go beyond the classical Western approach. This edited volume unites the fields of energy justice and comparative philosophy to provide an overarching global perspective and approach to applying energy ethics. We contribute to this purpose in four sections: setting the scene, practice, applying theory to practice, and theoretical approaches. Through the chapters featured in the volume, we position the book as one that contributes to energy justice scholarship across borders of nations, borders of ways of thinking and borders of disciplines. The outcome will be of interest to undergraduate and graduate students studying energy justice, ethics and environment, as well as energy scholars, policy makers, and energy analysts.
This open book is licensed under a Creative Commons License (CC BY). You can download Energy Justice Across Borders ebook for free in PDF format (4.4 MB).
Book Details
Subject
Philosophy
Publisher
Springer
Published
2020
Pages
307
Edition
1
Language
English
ISBN13
9783030240202
ISBN10
3030240207
ISBN13 Digital
9783030240219
ISBN10 Digital
3030240215
PDF Size
4.4 MB
License

Related Books

Energy Poverty
by Stefan Bouzarovski
This book aims to consolidate and advance debates on European and global energy poverty by exploring the political and infrastructural drivers and implications of the condition across a variety of spatial scales. It highlights the need for a geographical conceptualization of the different ways in which household-level energy deprivation both influe...

Energy Demand Challenges in Europe
by Frances Fahy, Gary Goggins, Charlotte Jensen
This book examines the role of citizens in sustainable energy transitions across Europe. It explores energy problem framing, policy approaches and practical responses to the challenge of securing clean, affordable and sustainable energy for all citizens, focusing on households as the main unit of analysis. The book revolves around ten contributions...

Situating Children of Migrants across Borders and Origins
by Claudio Bolzman, Laura Bernardi, Jean-Marie Le Goff
This open access wide-ranging collation of papers examines a host of issues in studying second-generation immigrants, their life courses, and their relations with older generations. Tightly focused on methodological aspects, both quantitative and qualitative, the volume features the work of authors from numerous countries, from differing discipline...

Advancing Energy Policy
by Chris Foulds, Rosie Robison
This book advocates for the Social Sciences and Humanities to be more involved in energy policymaking. It forms part of the European platform for energy-related Social Sciences and Humanities' activities, and works on the premise that crossing disciplines is essential. All of its contributions are highly interdisciplinary, with each chapter grounde...

Africa-EU Renewable Energy Research and Innovation Symposium 2018 (RERIS 2018)
by Moeketsi Mpholo, Dirk Steuerwald, Tonny Kukeera
This book presents the proceedings of the 2nd Africa-EU Renewable Energy Research and Innovation Symposium (RERIS 18), held in Maseru, Lesotho in January 2018. The symposium aimed to foster research cooperation on renewable energy between Africa and Europe - in academia, as well as the private and public sectors. Addressing thematic areas such as:...

Achieving the Paris Climate Agreement Goals
by Sven Teske
This book presents detailed pathways to achieve 100% renewable energy by 2050, globally and across ten geographical regions. Based on state-of-the-art scenario modelling, it provides the vital missing link between renewable energy targets and the measures needed to achieve them. Bringing together the latest research in climate science, renewable en...