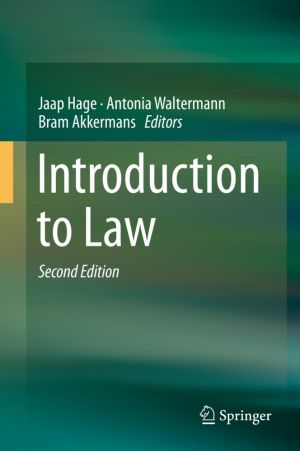 Book Description
This book is exceptional in the sense that it provides an introduction to law in general rather than the law of one specific jurisdiction, and it presents a unique way of looking at legal education. It is crucial for lawyers to be aware of the different ways in which societal problems can be solved and to be able to discuss the advantages and disadvantages of different legal solutions. In this respect, being a lawyer involves being able to reason like a lawyer, even more than having detailed knowledge of particular sets of rules. Introduction to Law reflects this view by focusing on the functions of rules and on ways of arguing the relative qualities of alternative legal solutions. Where 'positive' law is discussed, the emphasis is on the legal questions that must be addressed by a field of law, and on the different solutions which have been adopted by, for instance, the common law and civil law tradition. The law of specific jurisdictions is discussed to illustrate possible answers to questions such as when the existence of a valid contract is assumed.
This open book is licensed under a Creative Commons License (CC BY). You can download Introduction to Law ebook for free in PDF format (3.5 MB).
Book Details
Publisher
Springer
Published
2017
Pages
396
Edition
1
Language
English
ISBN13
9783319572512
ISBN10
3319572512
ISBN13 Digital
9783319572529
ISBN10 Digital
3319572520
PDF Size
3.5 MB
License

Related Books

Introduction to Financial Accounting
by Henry Dauderis, David Annand
Introduction to Financial Accounting is intended for a first course in introductory financial accounting. It has been extensively edited by Athabasca University and reflects current International Financial Reporting Standards (IFRS). A corporate approach is utilized versus beginning with a sole proprietorship emphasis and then converting to a corpo...

Introduction to Financial Accounting: U.S. GAAP Adaptation
by Henry Dauderis, David Annand, Donna L. Marchand
Introduction to Financial Accounting: U.S. GAAP, was intended for a first course in introductory financial accounting. It focuses on core introductory financial accounting topics that match pre-requisite requirements for students advancing to intermediate financial accounting. A corporate approach is utilized versus beginning with a sole proprietor...

An Introduction to C & GUI Programming
by Simon Long
Even if you are an absolute beginner, this book will teach you all you need to know to write simple programs in C and start creating GUIs. The first half of the book is an introduction to C, and covers the basics of writing simple command-line programs. The second half shows how to use the GTK user interface toolkit with C to create feature-rich...

Travel Marketing, Tourism Economics and the Airline Product
by Mark Anthony Camilleri
This book provides a comprehensive introduction to travel marketing, tourism economics and the airline product. At the same time, it provides an overview on the political, socio-economic, environmental and technological impacts of tourism and its related sectors.This publication covers both theory and practice in an engaging style, that will spark ...

Containerized Docker Application Lifecycle with Microsoft Platform and Tools
by Cesar de la Torre
This book provides end-to-end guidance on the Docker application development lifecycle with Microsoft tools and services while providing an introduction to Docker development concepts for readers who might be new to the Docker ecosystem. This way, anyone can understand the global picture and start planning development projects based on Docker and M...

The InfoSec Handbook
by Umesh Hodeghatta Rao, Umesha Nayak
The InfoSec Handbook offers the reader an organized layout of information that is easily read and understood. Allowing beginners to enter the field and understand the key concepts and ideas, while still keeping the experienced readers updated on topics and concepts. It is intended mainly for beginners to the field of information security, writte...