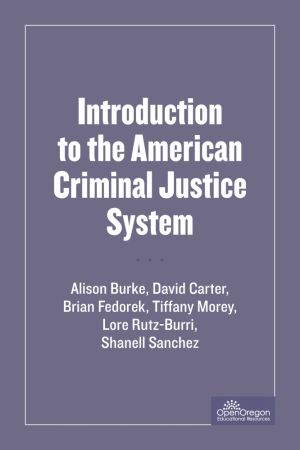 Book Description
This open book is unique because it was a collaborative effort by all Criminology and Criminal Justice professors at Southern Oregon University (SOU) in Ashland, Oregon. This book can be used on a quarter or semester system, as well as cover topics that may get left out of some introductory texts such as controversial issues in the criminal justice system. Further, we made it as comprehensive as possible to cover core concepts and areas in the criminal justice system including theory, policing, courts, corrections, and the juvenile justice system. Additionally, we created examples that will help make difficult concepts or ideas more relatable. Every section provides an overview of key terms, critical thinking questions for course engagement, assignments, and other ancillaries such as multimedia links, images, activity ideas, and more.
This open book is licensed under a Creative Commons License (CC BY-SA). You can download Introduction to the American Criminal Justice System ebook for free in PDF format (47.9 MB).
Table of Contents
Chapter 1
Crime, Criminal Justice, and Criminology
Chapter 2
Defining and Measuring Crime and Criminal Justice
Chapter 3
Criminal Law
Chapter 4
Criminal Justice Policy
Chapter 5
Criminological Theory
Chapter 6
Policing
Chapter 7
Courts
Chapter 8
Corrections
Chapter 9
Community Corrections
Chapter 10
Juvenile Justice
Book Details
Publisher
Open Oregon Educational Resources
Published
2019
Pages
432
Edition
1
Language
English
PDF Size
47.9 MB
License

Related Books

Do Exclusionary Rules Ensure a Fair Trial?
by Sabine Gless, Thomas Richter
This open access publication discusses exclusionary rules in different criminal justice systems. It is based on the findings of a research project in comparative law with a focus on the question of whether or not a fair trial can be secured through evidence exclusion. Part I explains the legal framework in which exclusionary rules function in six l...

Outsourcing Legal Aid in the Nordic Welfare States
by Olaf Halvorsen Rønning, Ole Hammerslev
This edited collection provides a comprehensive analysis of the differences and similarities between civil legal aid schemes in the Nordic countries whilst outlining recent legal aid transformations in their respective welfare states. Based on in-depth studies of Norway, Sweden, Finland, Denmark, and Iceland, the authors compare these cases with le...

The InfoSec Handbook
by Umesh Hodeghatta Rao, Umesha Nayak
The InfoSec Handbook offers the reader an organized layout of information that is easily read and understood. Allowing beginners to enter the field and understand the key concepts and ideas, while still keeping the experienced readers updated on topics and concepts. It is intended mainly for beginners to the field of information security, writte...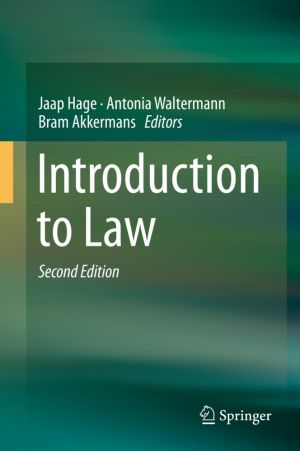 Introduction to Law
by Jaap Hage, Antonia Waltermann, Bram Akkermans
This book is exceptional in the sense that it provides an introduction to law in general rather than the law of one specific jurisdiction, and it presents a unique way of looking at legal education. It is crucial for lawyers to be aware of the different ways in which societal problems can be solved and to be able to discuss the advantages and disad...

Containerized Docker Application Lifecycle with Microsoft Platform and Tools
by Cesar de la Torre
This book provides end-to-end guidance on the Docker application development lifecycle with Microsoft tools and services while providing an introduction to Docker development concepts for readers who might be new to the Docker ecosystem. This way, anyone can understand the global picture and start planning development projects based on Docker and M...