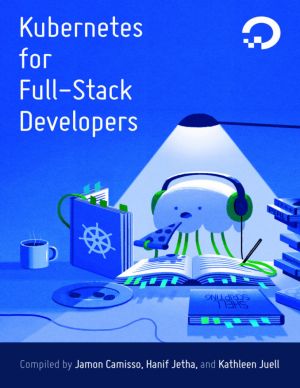 Book Description
Whether you're just curious, getting started with Kubernetes, or have experience with it, this curriculum will help you learn more about Kubernetes and running containerized applications. You'll learn about core Kubernetes concepts and use them to deploy and scale applications in practical tutorials. By the end of this curriculum you'll be able to create your own Kubernetes cluster from scratch and run your own applications on it. You will also learn how to set up monitoring, alerting, and automation for your applications on Kubernetes.
This open book is licensed under a Creative Commons License (CC BY-NC-SA). You can download Kubernetes for Full-Stack Developers ebook for free in PDF format (8.8 MB).
Table of Contents
An Introduction to Kubernetes
How To Create a Kubernetes Cluster Using Kubeadm on Ubuntu 18.04
Webinar Series: A Closer Look at Kubernetes
An Introduction to Helm, the Package Manager for Kubernetes
How To Install Software on Kubernetes Clusters with the Helm Package Manager
Architecting Applications for Kubernetes
Modernizing Applications for Kubernetes
How To Build a Node.js Application with Docker
Containerizing a Node.js Application for Development With Docker Compose
How to Set Up DigitalOcean Kubernetes Cluster Monitoring with Helm and Prometheus Operator
How To Set Up Laravel, Nginx, and MySQL with Docker Compose
How To Migrate a Docker Compose Workflow to Kubernetes
Building Optimized Containers for Kubernetes
How To Scale a Node.js Application with MongoDB on Kubernetes Using Helm
How To Set Up a Private Docker Registry on Top of DigitalOcean Spaces and Use It with DigitalOcean Kubernetes
How To Deploy a PHP Application with Kubernetes on Ubuntu 18.04
How To Automate Deployments to DigitalOcean Kubernetes with CircleCI
How To Set Up a CD Pipeline with Spinnaker on DigitalOcean Kubernetes
Kubernetes Networking Under the Hood
How To Inspect Kubernetes Networking
An Introduction to Service Meshes
How To Back Up and Restore a Kubernetes Cluster on DigitalOcean Using Velero
How To Set Up an Elasticsearch, Fluentd and Kibana (EFK) Logging Stack on Kubernetes
How to Set Up an Nginx Ingress with Cert-Manager on DigitalOcean Kubernetes
How to Protect Private Kubernetes Services Behind a GitHub Login with oauth2_proxy
Book Details
Subject
Computer Science
Publisher
DigitalOcean
Published
2020
Pages
637
Edition
1
Language
English
ISBN13 Digital
9780999773031
ISBN10 Digital
0999773038
PDF Size
8.8 MB
License

Related Books

GUI Design for Android Apps
by Ryan Cohen, Tao Wang
GUI Design for Android Apps is the perfect - and concise - introduction for mobile app developers and designers. Through easy-to-follow tutorials, code samples, and case studies, the book shows the must-know principles for user-interface design for Android apps running on the Intel platform, including smartphones, tablets and embedded devices. T...

Open Government
by Laurel Ruma, Daniel Lathrop
In a world where web services can make real-time data accessible to anyone, how can the government leverage this openness to improve its operations and increase citizen participation and awareness? Through a collection of essays and case studies, leading visionaries and practitioners both inside and outside of government share their ideas on how to...

NuGet In-House Succinctly
by José Roberto Olivas Mendoza
The NuGet package manager is an exceptional tool for sharing and distributing tools and code to other developers, but what do you do when you want to keep your code within your organization? In NuGet In-House Succinctly, author José Roberto Olivas Mendoza guides readers through the process of setting up a local NuGet server, creating a distributab...

Intel Galileo and Intel Galileo Gen 2
by Manoel Carlos Ramon
Intel Galileo and Intel Galileo Gen 2: API Features and Arduino Projects for Linux Programmers provides detailed information about Intel Galileo and Intel Galileo Gen 2 boards for all software developers interested in Arduino and the Linux platform. The book covers the new Arduino APIs and is an introduction for developers on natively using Linux. ...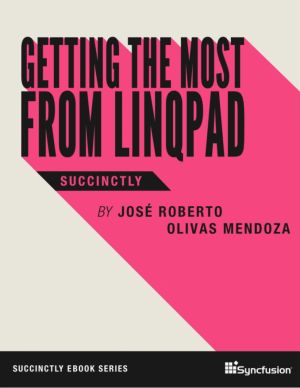 Getting the Most from LINQPad Succinctly
by José Roberto Olivas Mendoza
LINQPad is a powerful testing tool for all .NET developers that can help them deliver solutions in less time. In Getting the Most from LINQPad Succinctly, returning Succinctly series author José Roberto Olivas Mendoza lays out different ways to extend the functionality built into LINQPad. In this ebook, you'll learn how to use LINQPad to query Ent...

Embedded Firmware Solutions
by Jiming Sun, Marc Jones, Stefan Reinauer, Vincent Zimmer
Embedded Firmware Solutions is the perfect introduction and daily-use field guide - for the thousands of firmware designers, hardware engineers, architects, managers, and developers--to Intel's new firmware direction (including Quark coverage), showing how to integrate Intel® Architecture designs into their plans. Featuring hands-on examples an...