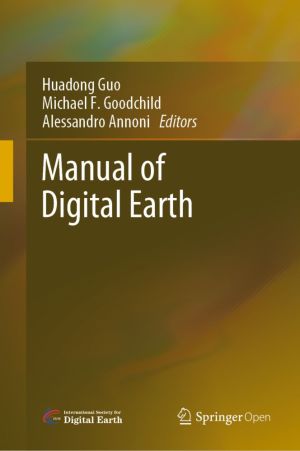 Book Description
This open access book offers a summary of the development of Digital Earth over the past twenty years. By reviewing the initial vision of Digital Earth, the evolution of that vision, the relevant key technologies, and the role of Digital Earth in helping people respond to global challenges, this publication reveals how and why Digital Earth is becoming vital for acquiring, processing, analysing and mining the rapidly growing volume of global data sets about the Earth.
The main aspects of Digital Earth covered here include: Digital Earth platforms, remote sensing and navigation satellites, processing and visualizing geospatial information, geospatial information infrastructures, big data and cloud computing, transformation and zooming, artificial intelligence, Internet of Things, and social media. Moreover, the book covers in detail the multi-layered/multi-faceted roles of Digital Earth in response to sustainable development goals, climate changes, and mitigating disasters, the applications of Digital Earth (such as digital city and digital heritage), the citizen science in support of Digital Earth, the economic value of Digital Earth, and so on. This book also reviews the regional and national development of Digital Earth around the world, and discusses the role and effect of education and ethics. Lastly, it concludes with a summary of the challenges and forecasts the future trends of Digital Earth.
By sharing case studies and a broad range of general and scientific insights into the science and technology of Digital Earth, this book offers an essential introduction for an ever-growing international audience.
This open book is licensed under a Creative Commons License (CC BY). You can download Manual of Digital Earth ebook for free in PDF format (30.8 MB).
Book Details
Publisher
Springer
Published
2020
Pages
846
Edition
1
Language
English
ISBN13
9789813299146
ISBN10
9813299142
ISBN13 Digital
9789813299153
ISBN10 Digital
9813299150
PDF Size
30.8 MB
License

Related Books

Satellite Earth Observations and Their Impact on Society and Policy
by Masami Onoda, Oran R Young
The result of a workshop bringing together an international advisory board of experts in science, satellite technologies, industry innovations, and public policy, this book addresses the current and future roles of satellite Earth observations in solving large-scale environmental problems. The book showcases the results of engaging distinct communi...

Computation and the Humanities
by Julianne Nyhan, Andrew Flinn
This book addresses the application of computing to cultural heritage and the discipline of Digital Humanities that formed around it. Digital Humanities research is transforming how the Human record can be transmitted, shaped, understood, questioned and imagined and it has been ongoing for more than 70 years. However, we have no comprehensive histo...

Digital Technology and the Practices of Humanities Research
by Jennifer Edmond
How does technology impact research practices in the humanities? How does digitisation shape scholarly identity? How do we negotiate trust in the digital realm? What is scholarship, what forms can it take, and how does it acquire authority? This diverse set of essays demonstrate the importance of asking such questions, bringing together establis...

Blown to Bits
by Hal Abelson, Ken Ledeen, Harry Lewis
For thousands of years, people have been saying that the world is changing and will never again be the same. Yet the profound changes happening today are different, because they result from a specific technological development. It is now possible, in principle, to remember everything that anyone says, writes, sings, draws, or photographs. Everythi...

Perspectives on European Earthquake Engineering and Seismology
by Atilla Ansal
This book collects 4 keynote and 15 theme lectures presented at the 2nd European Conference on Earthquake Engineering and Seismology (2ECEES), held in Istanbul, Turkey, from August 24 to 29, 2014. The conference was organized by the Turkish Earthquake Foundation - Earthquake Engineering Committee and Prime Ministry, Disaster and Emergency Managemen...