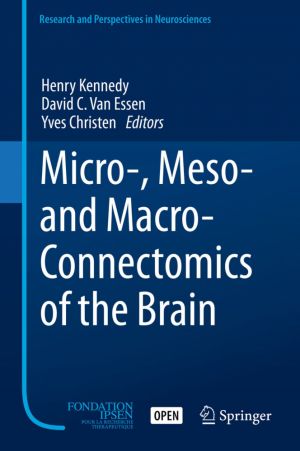 Book Description
This book has brought together leading investigators who work in the new arena of brain connectomics. This includes 'macro-connectome' efforts to comprehensively chart long-distance pathways and functional networks; 'micro-connectome' efforts to identify every neuron, axon, dendrite, synapse, and glial process within restricted brain regions; and 'meso-connectome' efforts to systematically map both local and long-distance connections using anatomical tracers. This book highlights cutting-edge methods that can accelerate progress in elucidating static 'hard-wired' circuits of the brain as well as dynamic interactions that are vital for brain function. The power of connectomic approaches in characterizing abnormal circuits in the many brain disorders that afflict humankind is considered. Experts in computational neuroscience and network theory provide perspectives needed for synthesizing across different scales in space and time. Altogether, this book provides an integrated view of the challenges and opportunities in deciphering brain circuits in health and disease.
This open book is licensed under a Creative Commons License (CC BY-NC). You can download Micro-, Meso- and Macro-Connectomics of the Brain ebook for free in PDF format (3.7 MB).
Book Details
Subject
Medical
Publisher
Springer
Published
2016
Pages
173
Edition
1
Language
English
ISBN13
9783319277769
ISBN10
3319277766
ISBN13 Digital
9783319277776
ISBN10 Digital
3319277774
PDF Size
3.7 MB
License

Related Books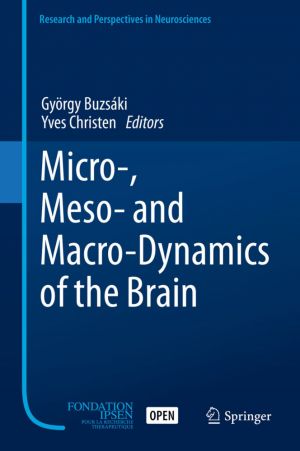 Micro-, Meso- and Macro-Dynamics of the Brain
by György Buzsáki, Yves Christen
How does the brain orchestrate perceptions, thoughts, and actions from the activity of its neurons? Addressing these challenging issues requires methods with sufficiently high temporal and spatial resolution of neuronal activity in both local and global networks as well as theories to advance understanding how different levels of brain dynamics int...

The Academic Book of the Future
by Rebecca E. Lyons, Samantha J. Rayner
Part of the AHRC/British Library Academic Book of the Future Project, this book interrogates current and emerging contexts of academic books from the perspectives of thirteen expert voices from the connected communities of publishing, academia, libraries, and bookselling....

Cold Micro Metal Forming
by Frank Vollertsen, Sybille Friedrich, Bernd Kuhfuß, Peter Maaß, Claus Thomy, Hans-Werner Zoch
This book contains the research report of the Collaborative Research Center "Micro Cold Forming" (SFB 747) of the University of Bremen, Germany. The topical research focus lies on new methods and processes for a mastered mass production of micro parts which are smaller than 1mm (by forming in batch size higher than one million). The targe...

Manifesto of the New Economy
by Alexander Dolgin
How do social networking services earn money?What is the "second hand of the market" and how does it operate? Why does society need so many different kinds of goods? What does happiness economics not reveal about happiness?What is the link between talent, success and "stardom"? What is the business development model for the ent...

Information-Consciousness-Reality
by James Glattfelder
This book chronicles the rise of a new scientific paradigm offering novel insights into the age-old enigmas of existence. Over 300 years ago, the human mind discovered the machine code of reality: mathematics. By utilizing abstract thought systems, humans began to decode the workings of the cosmos. From this understanding, the current scientific pa...

Finding the Limits of the Limes
by Philip Verhagen, Jamie Joyce, Mark Groenhuijzen
This book demonstrates the application of simulation modelling and network analysis techniques in the field of Roman studies. It summarizes and discusses the results of a 5-year research project carried out by the editors that aimed to apply spatial dynamical modelling to reconstruct and understand the socio-economic development of the Dutch part o...