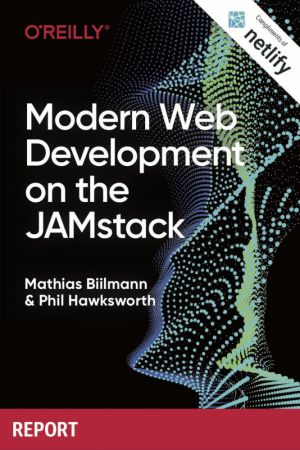 Book Description
Learn how to run your web projects - everything from simple sites to complex applications - without a single server. It's possible with the JAMstack, a modern web development architecture for deploying fast, highly-scalable sites and applications that don't require traditional origin infrastructure. This practical report explains how the JAMstack delivers better performance, higher security, and lower cost of scaling than server-run web apps.
Based on client-side JavaScript, reusable APIs, and prebuilt Markup, the JAMstack sits at the center of several converging trends and technologies already being used to support today's web projects. Authors Mathias Biilmann and Phil Hawksworth from Netlify demonstrate how the JAMstack drastically improves performance, increases reliability, and reduces the surface for attacks.
This open book is licensed under a Creative Commons License (CC BY). You can download Modern Web Development on the JAMstack ebook for free in PDF format (1.8 MB).
Table of Contents
Chapter 1
The Challenges of Modern Web Development
Chapter 2
Introducing the JAMstack
Chapter 3
Advantages of the JAMstack
Chapter 4
Planning for the JAMstack
Chapter 5
Shifting the Mental Model
Chapter 6
Applying the JAMstack at Scale
Chapter 7
Conclusion
Book Details
Subject
Computer Science
Publisher
O'Reilly Media
Published
2019
Pages
127
Edition
1
Language
English
ISBN13 Digital
9781492058564
ISBN10 Digital
1492058564
PDF Size
1.8 MB
License

Related Books

Critical Perspectives on the Scholarship of Assessment and Learning in Law
by Alison Bone, Paul Maharg
The Assessment in Legal Education book series offers perspectives on assessment in legal education across a range of Common Law jurisdictions. Each volume in the series provides: Information on assessment practices and cultures within a jurisdiction.A sample of innovative assessment practices and designs in a jurisdiction.Insights into how assessm...

TouchDevelop
by R. Nigel Horspool, Nikolai Tillmann
Mobile devices such as smartphones and tablets are set to become the main computers that virtually all people will own and carry with them at all times. And yet,mobile devices are not yet used for all computing tasks. A project at Microsoft Research was created to answer a simple question: "It is possible to create interesting apps directly on...

Animals and the Shaping of Modern Medicine
by Abigail Woods, Michael Bresalier, Angela Cassidy, Rachel Mason Dentinger
This book breaks new ground by situating animals and their diseases at the very heart of modern medicine. In demonstrating their historical significance as subjects and shapers of medicine, it offers important insights into past animal lives, and reveals that what we think of as 'human' medicine was in fact deeply zoological.Each chapter analyses a...

Autistic Community and the Neurodiversity Movement
by Steven K. Kapp
This book marks the first historical overview of the autism rights branch of the neurodiversity movement, describing the activities and rationales of key leaders in their own words since it organized into a unique community in 1992. Sandwiched by editorial chapters that include critical analysis, the book contains 19 chapters by 21 authors about th...

Gallucci's Commentary on Dürer's 'Four Books on Human Proportion'
by James Hutson
In 1591, Giovanni Paolo Gallucci published his Della simmetria dei corpi humani, an Italian translation of Albrecht Dürer's Four Books on Human Proportion. While Dürer's treatise had been translated earlier in the sixteenth-century into French and Latin, it was Gallucci's Italian translation that endured in popularity as the most cited version of...