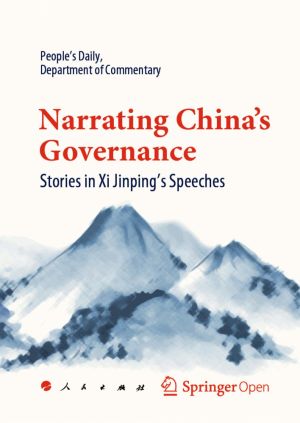 Book Description
This open access book captures and elaborates on the skill of storytelling as one of the distinct leadership features of Xi Jinping, the General Secretary of the Communist Party of China and the President of the People's Republic of China. It gathers the stories included in Xi's speeches on various occasions, where they conveyed the essence of China's history and culture, its reform and development, and the principles of China's participating in global governance and cooperating with other countries to build a community of common destiny. The respective stories not only convey abstract and profound concepts of governance in comparatively straightforward language, but also create an immediate emotional connection between the narrator and the listener.
In addition to the original stories, extensive additional materials are provided to convey the original context in which each was told, including when and to whom Xi told it, helping readers attain a deeper, intuitive understanding of their relevance.
This open book is licensed under a Creative Commons License (CC BY-NC-ND). You can download Narrating China's Governance ebook for free in PDF format (2.5 MB).
Book Details
Subject
History
Publisher
Springer
Published
2020
Pages
282
Edition
1
Language
English
ISBN13
9789813291775
ISBN10
981329177X
ISBN13 Digital
9789813291782
ISBN10 Digital
9813291788
PDF Size
2.5 MB
License

Related Books

The EU and China in African Authoritarian Regimes
by Christine Hackenesch
This book analyses the domestic politics of African dominant party regimes, most notably African governments' survival strategies, to explain their variance of opinions and responses towards the reforming policies of the EU. The author discredits the widespread assumption that the growing presence of China in Africa has made the EU's task of suppor...

Environmental Governance in Latin America
by Fábio de Castro, Barbara Hogenboom, Michiel Baud
The multiple purposes of nature - livelihood for communities, revenues for states, commodities for companies, and biodiversity for conservationists - have turned environmental governance in Latin America into a highly contested arena. In such a resource-rich region, unequal power relations, conflicting priorities, and trade-offs among multiple goal...

Freshwater Governance for the 21st Century
by Eiman Karar
The objective of this book is to broadly illustrate the key aspects of water governance, mapping the spectrum of decision-making from techno-centric and eco-centric approaches, to hybrid concepts and people-centric approaches. Topics covered include the challenges for water-governance models, the polycentric model, the integration challenge, water ...

Environmental Governance of the Baltic Sea
by Michael Gilek, Mikael Karlsson, Sebastian Linke, Katarzyna Smolarz
This edited volume presents a comprehensive and coherent interdisciplinary analysis of challenges and possibilities for sustainable governance of the Baltic Sea ecosystem by combining knowledge and approaches from natural and social sciences. Focusing on the Ecosystem Approach to Management (EAM) and associated multi-level, multi-sector and multi-a...

Governance for Drought Resilience
by Hans Bressers, Nanny Bressers, Corinne Larrue
This book presents the findings of a team of scientists and practitioners who have been working on the project "Benefits of Governance in Drought Adaptation" (in short: the DROP project), which is included in the European Union's INTERREG IVB NWE programme. The DROP governance team developed a Governance Assessment Tool (GAT), which allow...