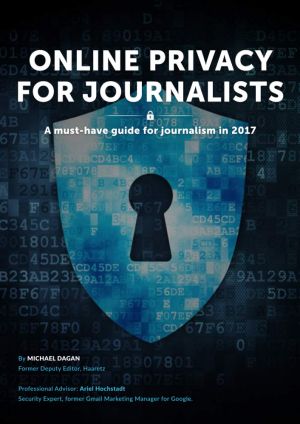 Book Description
Online privacy for journalists will guide professionals (and could and should guide anyone) about safeguarding their communications, browsing, and data, from any unwanted "big brother" or intruder. It is published now as the world is reshaping, and there's a real threat, even in the western world, for the free press. All proceeds from this book are donated straight to the EFF.
This open book is licensed under a Creative Commons License (CC BY). You can download Online privacy for journalists ebook for free in PDF format (0.8 MB).
Book Details
Subject
Computer Science
Publisher
Self-publishing
Published
2017
Pages
28
Edition
1
Language
English
PDF Size
0.8 MB
License

Related Books

Impact of Information Society Research in the Global South
by Arul Chib, Julian May, Roxana Barrantes
The second volume in the SIRCA book series investigates the impact of information society initiatives by extending the boundaries of academic research into the realm of practice. Global in scope, it includes contributions and research projects from Asia, Africa and Latin America. The international scholarly community has taken a variety of approach...

Status and Dynamics of Forests in Germany
by Nicole Wellbrock, Andreas Bolte
This book is an open access publication.Forest ecosystems in Central Europe are changing as a result of anthropogenic influences and changing climate conditions. As such, a large-scale monitoring programme was undertaken in order to understand the influence of site modification, deposition of air pollutants, and climate. This book presents the sci...

Open Government
by Laurel Ruma, Daniel Lathrop
In a world where web services can make real-time data accessible to anyone, how can the government leverage this openness to improve its operations and increase citizen participation and awareness? Through a collection of essays and case studies, leading visionaries and practitioners both inside and outside of government share their ideas on how to...

The Privacy Engineer's Manifesto
by Michelle Finneran Dennedy, Jonathan Fox, Thomas R. Finneran
The Privacy Engineer's Manifesto: Getting from Policy to Code to QA to Value is the first book of its kind, offering industry-proven solutions that go beyond mere theory and adding lucid perspectives on the challenges and opportunities raised with the emerging "personal" information economy. The authors, a uniquely skilled team of long...

Tools and Algorithms for the Construction and Analysis of Systems
by Dirk Beyer, Marieke Huisman, Fabrice Kordon, Bernhard Steffen
This book constitutes the refereed proceedings of the 7th International Conference on Tools and Algorithms for the Construction and Analysis of Systems, TACAS 2001. The 36 revised full papers presented together with an invited contribution were carefully reviewed and selected from a total of 125 submissions. The papers are organized in sections on ...