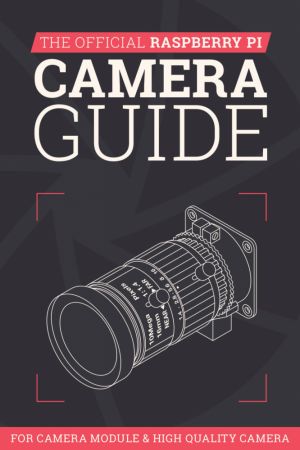 Raspberry Pi Camera Guide
For Camera Module & High Quality Camera
by Dan Aldred, Wesley Archer, Jody Carter, PJ Evans, Richard Hayler, James Singleton, Rob Zwetsloot
DOWNLOAD EBOOK
READ ONLINE
SHARE BOOK
QR CODE
Book Description
Take pictures and shoot video with your Raspberry Pi. Connecting a High Quality Camera or Camera Module turns your favourite credit-card-sized computer into a powerful digital camera. Learn how to set up and control the camera to capture stills and video footage. Discover the numerous modes and effects available, and use the camera in a variety of exciting projects across 17 packed chapters:
- Set up the new High Quality Camera, attach a lens, and start capturing stunning hi-res images
- Take selfies and shoot stop-motion videos
- Build a wildlife camera and also an underwater one
- Make a smart door with a video doorbell
- Set up a security camera to monitor your home
- And much, much more!
This open book is licensed under a Creative Commons License (CC BY-NC-SA). You can download Raspberry Pi Camera Guide ebook for free in PDF format (9.1 MB).
Table of Contents
Chapter 1
Getting started
Chapter 2
Precise camera control
Chapter 3
Time-lapse photography
Chapter 4
High-speed photography
Chapter 5
Control the camera from Python
Chapter 6
Stop-motion and selfies
Chapter 7
Flash photography using an LED
Chapter 8
Make a Minecraft photo booth
Chapter 9
Make a spy camera
Chapter 10
Smart door
Chapter 11
Car Spy Pi
Chapter 12
Build a wildlife camera trap
Chapter 13
Take your camera underwater
Chapter 14
Install a bird box camera
Chapter 15
Live-stream video and stills
Chapter 16
Set up a security camera
Chapter 17
Quick reference
Book Details
Subject
Computer Science
Publisher
Raspberry Pi Press
Published
2020
Pages
132
Edition
1
Language
English
ISBN13 Digital
9781912047529
ISBN10 Digital
1912047527
PDF Size
9.1 MB
License

Related Books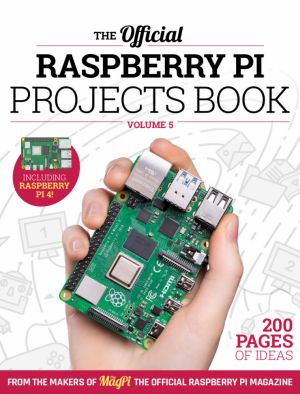 Raspberry Pi Projects Book
by Wes Archer, David Crookes, PJ Evans, Gareth Halfacree, Rosie Hattersley, Nicola King, Ben Nuttall, Marc Scott, Danny Staple, Mark Vanstone
The Raspberry Pi is loved the world over by educators and makers thanks to its tiny size and endless possibilities. Find out why it's loved and how to use it with the latest official Projects Book - we've managed to stuff the fifth edition with another 200 pages of inspiring projects, practical tutorials, and definitive reviews. - Learn all abou...

Retro Gaming with Raspberry Pi
by Bob Clagett, David Crookes, PJ Evans, Rosie Hattersley, KG Orphanides, Ruiz Brothers, Mark Vanstone
This open book shows you how to set up a Raspberry Pi to play classic games, and a whole lot more. Build your own portable console, full-size arcade cabinet, and pinball machine with our step-by-step guides. And learn how to program your own games, using Python and Pygame Zero. - Set up your Raspberry Pi for retro gaming - Emulate classic computers...

An Introduction to C & GUI Programming
by Simon Long
Even if you are an absolute beginner, this book will teach you all you need to know to write simple programs in C and start creating GUIs. The first half of the book is an introduction to C, and covers the basics of writing simple command-line programs. The second half shows how to use the GTK user interface toolkit with C to create feature-rich...

Ray Tracing Gems
by Eric Haines, Tomas Akenine-Möller
This book is a must-have for anyone serious about rendering in real time. With the announcement of new ray tracing APIs and hardware to support them, developers can easily create real-time applications with ray tracing as a core component. As ray tracing on the GPU becomes faster, it will play a more central role in real-time rendering. Ray Tracing...

Russia's Turn to the East
by Helge Blakkisrud, Elana Wilson Rowe
This book explores if and how Russian policies towards the Far East region of the country – and East Asia more broadly – have changed since the onset of the Ukraine crisis and Russia's annexation of Crimea. Following the 2014 annexation and the subsequent enactment of a sanctions regime against the country, the Kremlin has emphasized the easter...

Vessel Health and Preservation: The Right Approach for Vascular Access
by Nancy L. Moureau
This book offers updated and revised information on vessel health and preservation (VHP), a model concept first published in poster form in 2008 and in JVA in 2012, which has received a great deal of attention, especially in the US, UK and Australia. The book presents a model and a new way of thinking applied to vascular access and administration o...