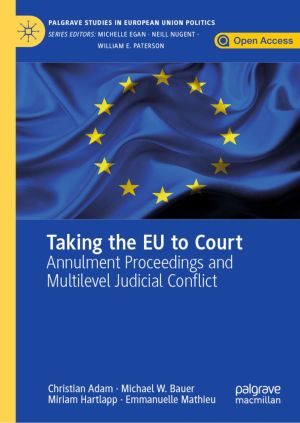 Book Description
This book provides an exhaustive picture of the role that annulment conflicts play in the EU multilevel system. Based on a rich dataset of annulment actions since the 1960s and a number of in-depth case studies, it explores the political dimension of annulment litigation, which has become an increasingly relevant judicial tool in the struggle over policy content and decision-making competences. The book covers the motivations of actors to turn policy conflicts into annulment actions, the emergence of multilevel actors'' litigant configurations, the impact of actors'' constellations on success in court, as well as the impact of annulment actions on the multilevel policy conflicts they originate from.
Christian Adam
is Assistant Professor at the Geschwister Scholl Institute for Political Science, Ludwig Maximilians Universität München, Germany.
Michael W. Bauer
holds the Jean Monnet Chair for Comparative Public Administration and Policy Analysis at the German University of Administrative Sciences Speyer. He is also a part-time professor at the School of Transnational Governance, European University Institute, Florence, Italy.
Miriam Hartlapp
is Professor of Comparative Politics: Germany and France at the Freie University Berlin, Germany. She previously held chairs at Leipzig (2014-17) and Bremen University (2013-14) and worked at the Max Planck Institute for the Study of Societies in Cologne.
Emmanuelle Mathieu
is Lecturer at the University of Lausanne, Switzerland. Previously, she was a Marie Curie research fellow at the Barcelona Institute for International Studies, Spain.
This open book is licensed under a Creative Commons License (CC BY). You can download Taking the EU to Court ebook for free in PDF format (2.8 MB).
Table of Contents
Chapter 1
The Neglected Politics Behind EU Annulment Litigation
1
Chapter 2
Towards an Analytical Framework to Study Annulments in the EU
21
Chapter 3
The Legal Background
51
Chapter 4
Studying Annulment Actions
73
Chapter 5
Motivations: When Conflict Leads to Litigation
83
Chapter 6
Litigant Configurations: Turbulence and the Emergence of Complex Configurations
127
Chapter 7
Litigant Success: How Litigant Configurations Relate to Legal Outcomes
155
Chapter 8
The Political Side of EU Annulment Litigation
189
Annexes
207
References
211
Index
233
Book Details
Subject
Politics and Government
Publisher
Palgrave Macmillan
Published
2020
Pages
239
Edition
1
Language
English
ISBN13
9783030216283
ISBN10
3030216284
ISBN13 Digital
9783030216290
ISBN10 Digital
3030216292
PDF Size
2.8 MB
License

Related Books

European Variations as a Key to Cooperation
by Ernst Hirsch Ballin, Emina Ćerimović, Huub Dijstelbloem, Mathieu Segers
This free book offers a novel view on the benefits of a lasting variation between the member states in the EU. In order to bring together thirty very different European states and their citizens, the EU will have to offer more scope for variation. Unlike the existing differentiation by means of opt-outs and deviations, variation is not a concession...

The Entrepreneurial Society
by Niklas Elert, Magnus Henrekson, Mark Sanders
This book builds on the European Union's (EU) Horizon 2020 project 'Financial and Institutional Reforms for an Entrepreneurial Society' (FIRES). The authors outline how Europe can move towards more inclusive, innovative and sustainable growth through reforms that will rekindle its entrepreneurial spirit. Based on decades of research and countless d...

Ukrainian Migration to the European Union
by Olena Fedyuk, Marta Kindler
This book brings together research findings from a variety of disciplines in this integrated study of the migration of Ukrainian nationals to the EU. It contextualizes and historicizes this migration against the background of the series of crises experienced by Ukraine and the wider region over the last thirty or so years, from the dissolution of t...

Social Theory of Fear
by Geoffrey R. Skoll
In the current crisis of the capitalist world system, elites promote fear of crime and terrorism to keep and expand their privileges and control the masses. This book offers an analysis of the crisis and strategies for rebellion....

Tools and Algorithms for the Construction and Analysis of Systems
by Tomáš Vojnar, Lijun Zhang
The LNCS 11427 and 11428 proceedings set constitutes the proceedings of the 25th International Conference on Tools and Algorithms for the Construction and Analysis of Systems, TACAS 2019, which took place in Prague, Czech Republic, in April 2019, held as part of the European Joint Conferences on Theory and Practice of Software, ETAPS 2019. The tot...