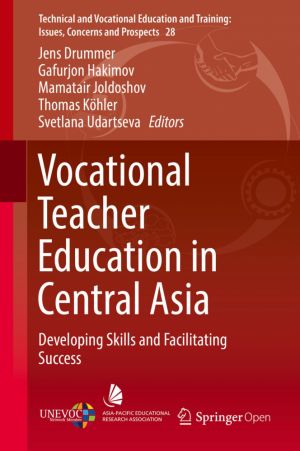 Vocational Teacher Education in Central Asia
Developing Skills and Facilitating Success
by Jens Drummer, Gafurjon Hakimov, Mamatair Joldoshov, Thomas Köhler, Svetlana Udartseva
DOWNLOAD EBOOK
READ ONLINE
SHARE BOOK
QR CODE
Book Description
This book is open access under a CC-BY license. This open access volume presents papers on vocational education, project-based learning and science didactic approaches, illustrating with sample cases, and with a special focus on Central Asian states. Thematically embedded in the area of Technical Vocational Education and Training (TVET), the book examines the following main topics: project-based learning (PBL), specific didactics with a linkage to food technologies and laboratory didactics, media and new technologies in TVET, evaluation of competencies including aspects of measurement, examination issues, and labour market and private sector issues in TVET, and research methods with a focus on empirical research and the role of scientific networks. It presents outcomes from TVET programmes at various universities, colleges, and teacher training institutes in Central Asia.
This open book is licensed under a Creative Commons License (CC BY). You can download Vocational Teacher Education in Central Asia ebook for free in PDF format (4.1 MB).
Book Details
Publisher
Springer
Published
2018
Pages
217
Edition
1
Language
English
ISBN13
9783319730929
ISBN10
3319730924
ISBN13 Digital
9783319730936
ISBN10 Digital
3319730932
PDF Size
4.1 MB
License

Related Books

Visions for Intercultural Music Teacher Education
by Heidi Westerlund, Sidsel Karlsen, Heidi Partti
This open access book highlights the importance of visions of alternative futures in music teacher education in a time of increasing societal complexity due to increased diversity. There are policies at every level to counter prejudice, increase opportunities, reduce inequalities, stimulate change in educational systems, and prevent and counter pol...

Mobilities, Boundaries, and Travelling Ideas
by Manja Stephan-Emmrich, Philipp Schröder
This collection brings together a variety of anthropological, historical and sociological case studies from Central Asia and the Caucasus to examine the concept of translocality. The chapters scrutinize the capacity of translocality to describe, in new ways, the multiple mobilities, exchange practices and globalizing processes that link places, peo...

Successful Global Collaborations in Higher Education Institutions
by Abdulrahman AI-Youbi, Adnan H. M. Zahed, William G. Tierney
This book written by international experts in the field of educational innovation is a guide for universities to become world-class universities. It contributes to the current international intellectual debate on the future of higher education. It also tells the story of King Abdulaziz University in Jeddah (Saudi Arabia) and its effort to become a ...

National Reflections on the Netherlands Didactics of Mathematics
by Marja Van den Heuvel-Panhuizen
This open access book, inspired by the ICME 13 Thematic Afternoon on "European Didactic Traditions", consists of 17 chapters, in which educators from the Netherlands reflect on the teaching and learning of mathematics in their country and the role of the Dutch domain-specific instruction theory of Realistic Mathematics Education.Written b...

Teaching for Excellence and Equity
by Nathan Burroughs, Jacqueline Gardner, Youngjun Lee, Siwen Guo, Israel Touitou, Kimberly Jansen, William Schmidt
This book examines the interrelationship of national policy, teacher effectiveness, and student outcomes with a specific emphasis on educational equity. Using data from the IEA's Trends in International Mathematics and Science Study (TIMSS) conducted between 1995 and 2015, it investigates grade four and grade eight data to assess trends in key teac...

Uses of Technology in Upper Secondary Mathematics Education
by Stephen Hegedus, Colette Laborde, Corey Brady, Sara Dalton, Hans-Stefan Siller, Michal Tabach, Jana Trgalova, Luis Moreno-Armella
This survey addresses the use of technology in upper secondary mathematics education from four points of view: theoretical analysis of epistemological and cognitive aspects of activity in new technology mediated learning environments, the changes brought by technology in the interactions between environment, students and teachers, the interrelation...