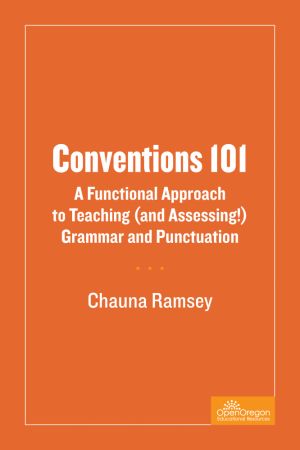 Book Description
This is a collection of cumulative units of study for conventional errors common in student writing. It's flexible, functional, and zeroes in problems typically seen in writing of all types, from the eternal "there/they're/their" struggle to correct colon use. Units are organized from most simple to most challenging.
There are tens of thousands of grammar textbooks out there. What makes this one different? Glad you asked. I think it's different in three ways.
1) This book was written by someone with 24 years of experience teaching at public high schools and colleges.
2) This book zeroes in on errors commonly found in students' writing, but it doesn't use phrases unfamiliar to students. I love knowing how to hyphenate phrasal adjectives, for example, but I'd never teach hyphenation using those words. I don't really care whether or not my students know what a dependent clause is; instead, I want them to know when they should use a comma instead of a semicolon. To be fair, I guess I do teach students certain phrases like "fragment" and "runon," but for the most part, this book is about function - not terminology.
3) Perhaps most importantly, this book includes something I haven't seen in others: comprehensive assessment. How many of us have successfully taught the difference between "their," "they're," and "there," only to have the same errors pop up in students' writing two weeks later? The quizzes in this book are cumulative, so students are less likely to forget what you taught two weeks ago.
This open book is licensed under a Creative Commons License (CC BY-NC). You can download Conventions 101 ebook for free in PDF format (0.2 MB).
Table of Contents
Unit 1
A Lot; There, They're, Their; To, Two, Too
Unit 2
Your, You're; Its, It's; Woman,Women
Unit 3
Where, Were; Could Have, Could "Of"; Lose, Loose
Unit 4
Whose, Who's; Fewer, Less; Choose, Chose
Unit 5
Accept, Except; Who vs That; Lose, Loose
Unit 6
All Ready, Already; I vs Me; Affect, Effect
Unit 7
Everyday, Every Day; Defiant, Definite
Unit 8
Capitalizing Pronouns; All Right vs "Alright"
Unit 9
Commas in a Series; Commas After Introductory Phrases
Unit 10
Commas with "So," "Or," "But," "And"; Commas with Interrupting Elements
Unit 11
Comma Review
Unit 12
Fragments and Run-Ons
Unit 13
Semicolons
Unit 14
Punctuation and End Quotation Marks; Punctuating Titles
Unit 15
Colons
Unit 16
Apostrophe Pre-Assessment
Unit 17
Apostrophes
Unit 18
Subject-Verb Agreement
Unit 19
Final Exam; "Rejected" Notice; Cheat Sheet
Book Details
Publisher
Open Oregon Educational Resources
Published
2016
Pages
49
Edition
1
Language
English
PDF Size
0.2 MB
License

Related Books

Knowledge and Institutions
by Johannes Glückler, Roy Suddaby, Regina Lenz
This book bridges the disciplinary boundaries within the social sciences to explore the role of social institutions in shaping geographical contexts, and in creating new knowledge. It includes theorizations as well as original empirical case studies on the emergence, maintenance and change of institutions as well as on their constraining and enabli...

Crypto 101
by Laurens Van Houtven
Crypto 101 is an introductory course on cryptography, freely available for programmers of all ages and skill levels. Learn how to exploit common cryptographic flaws, armed with nothing but a little time and your favorite programming language. Forge administrator cookies, recover passwords, and even backdoor your own random number generator....

Mary and Early Christian Women
by Ally Kateusz
This book reveals exciting early Christian evidence that Mary was remembered as a powerful role model for women leaders - women apostles, baptizers, and presiders at the ritual meal. Early Christian art portrays Mary and other women clergy serving as deacon, presbyter/priest, and bishop. In addition, the two oldest surviving artifacts to depict pe...

Entity-Oriented Search
by Krisztian Balog
This book covers all facets of entity-oriented search—where "search" can be interpreted in the broadest sense of information access—from a unified point of view, and provides a coherent and comprehensive overview of the state of the art. It represents the first synthesis of research in this broad and rapidly developing area. Selected ...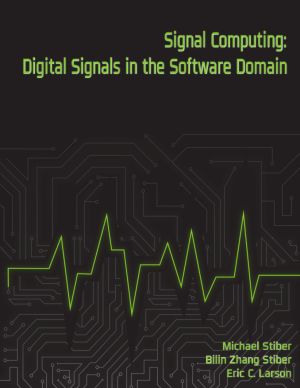 Signal Computing
by Michael Stiber, Bilin Zhang Stiber, Eric C. Larson
In this book, you will learn how digital signals are captured, represented, processed, communicated, and stored in computers. The specific topics we will cover include: physical properties of the source information (such as sound or images), devices for information capture (microphones, cameras), digitization, compression, digital signal representa...

iOS Developer Notes for Professionals
by GoalKicker
The iOS Developer Notes for Professionals book is compiled from Stack Overflow Documentation, the content is written by the beautiful people at Stack Overflow....