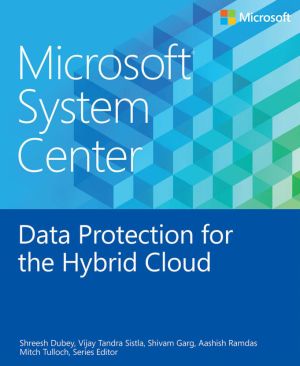 Book Description
If you are responsible for architecting and designing the backup strategy for your organization, especially if you're looking for ways to incorporate cloud backup into your business continuity scenarios, this book is for you. With the increasing trends in virtualization as well as the move to the pubic cloud, IT organizations are headed toward a world where data and applications run in on-premises private clouds as well as in the public cloud. This has key implications for data protection strategy, and it is important to choose the solution that provides the same level of data protection you have afforded so far while allowing you to harness the power of the public cloud.
We will cover how the Azure Backup service has evolved into a first-class platform-as-a-service (PaaS) service in Microsoft Azure that integrates with the on-premises enterprise class backup product, System Center Data Protection Manager (DPM), to provide a seamless hybrid cloud backup solution. Current backup products treat the cloud as a storage endpoint, which we see as a limited-use case for the public cloud. The approach we describe in this book allows you to exploit the full power of the public cloud and gives you the flexibility to manage your backups in a hybrid world.
This open book is licensed under a Microsoft Open License. You can download Data Protection for the Hybrid Cloud ebook for free in PDF format (4.9 MB).
Table of Contents
Chapter 1
Data protection trends and challenges
Chapter 2
Overview of hybrid cloud backup
Chapter 3
Protecting Microsoft workloads
Chapter 4
Protecting Azure IaaS workloads
Chapter 5
Protecting Hyper-V virtual machines
Chapter 6
VMware private cloud protection
Chapter 7
Protecting the Microsoft Cloud Platform System
Chapter 8
Optimizing backup storage
Chapter 9
Integration with System Center
Chapter 10
Integration with Azure Backup
Chapter 11
Protecting Azure IaaS virtual machines
Book Details
Subject
Computer Science
Publisher
Microsoft Press
Published
2015
Pages
115
Edition
1
Language
English
ISBN13 Digital
9780735695832
ISBN10 Digital
0735695830
PDF Size
4.9 MB
License
Microsoft Open
Related Books

Building the Infrastructure for Cloud Security
by Raghu Yeluri, Enrique Castro-Leon
For cloud users and providers alike, security is an everyday concern, yet there are very few books covering cloud security as a main subject. This book will help address this information gap from an Information Technology solution and usage-centric view of cloud infrastructure security. The book highlights the fundamental technology components nece...

Tools and Algorithms for the Construction and Analysis of Systems
by Tomáš Vojnar, Lijun Zhang
The LNCS 11427 and 11428 proceedings set constitutes the proceedings of the 25th International Conference on Tools and Algorithms for the Construction and Analysis of Systems, TACAS 2019, which took place in Prague, Czech Republic, in April 2019, held as part of the European Joint Conferences on Theory and Practice of Software, ETAPS 2019. The tot...

IMPROVE - Innovative Modelling Approaches for Production Systems to Raise Validatable Efficiency
by Oliver Niggemann, Peter Schüller
This open access work presents selected results from the European research and innovation project IMPROVE which yielded novel data-based solutions to enhance machine reliability and efficiency in the fields of simulation and optimization, condition monitoring, alarm management, and quality prediction. Prof. Dr. Oliver Niggemann is Professor for Ar...

Model-Based Demography
by Thomas Burch
Late in a career of more than sixty years, Thomas Burch, an internationally known social demographer, undertook a wide-ranging methodological critique of demography. This open access volume contains a selection of resulting papers, some previously unpublished, some published but not readily accessible [from past meetings of The International Union...

Migrating Big Data Analytics into the Cloud
by Mike Barlow
Just how strong is the movement of big data analytics to the cloud? This report, based on a survey by O'Reilly data analyst John King, reveals that the desire among corporations to adopt big data-as-a-service is gaining momentum-and that many organizations with big data cloud experience are likely to expand their use. King's recent survey of IT ...