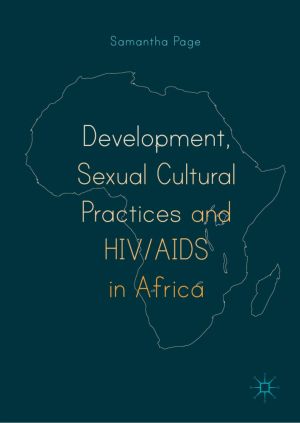 Book Description
This open access book introduces the theoretical frameworks and academic debates concerning sexual cultural practices and HIV/AIDS in Africa. It shows how these frameworks have been applied in a practical sense in Africa to investigate sexual cultural practices and their link with HIV/AIDS. The author provides an overview of both the field of study and the methods used during fieldwork. Finally, it assesses the implications of the findings for the conceptualization and provision of current and future HIV/AIDS policies and programs in Africa. This monograph will appeal to policy makers and practitioners working in the field of HIV/AIDS in the Global South as well as academics and students.Samantha Page is Associate Professor of International Development Studies, Department of Global Development and Planning, University of Adger, Norway.
This open book is licensed under a Creative Commons License (CC BY). You can download Development, Sexual Cultural Practices and HIV/AIDS in Africa ebook for free in PDF format (1.8 MB).
Book Details
Subject
Politics and Government
Publisher
Palgrave Macmillan
Published
2019
Pages
216
Edition
1
Language
English
ISBN13
9783030041182
ISBN10
3030041182
ISBN13 Digital
9783030041199
ISBN10 Digital
3030041190
PDF Size
1.8 MB
License

Related Books

Education and Skills for Inclusive Growth, Green Jobs and the Greening of Economies in Asia
by Rupert Maclean, Shanti Jagannathan, Brajesh Panth
This book presents an overview of the main research findings and case studies concerning education and skills for inclusive growth, green jobs and the greening of economies. Focusing on India, Indonesia, Sri Lanka and Viet Nam, it discusses government and business sector responses to these issues and how Technical and Vocational Education and Train...

Transformation and Development
by Anja Mihr
This book features various studies on democratization, transformation, political and economic development, and security issues in the Organization for Security and Cooperation in Europe (OSCE) geographical region and beyond. Written by experts and academics in the fields of human rights, security, transformation and development, particularly in pos...

Applying the Kaizen in Africa
by Keijiro Otsuka, Kimiaki Jin, Tetsushi Sonobe
At present, how to develop industries is a burning issue in Africa, where population growth remains high and economic development has thus far failed to provide sufficient jobs for many, especially young people and women. The creation of productive jobs through industrial development ought to be a central issue in steering economic activity across ...

Indigenous Knowledge and Education in Africa
by Chika Ezeanya-Esiobu
This book presents a strong philosophical, theoretical and practical argument for the mainstreaming of indigenous knowledge in curricula development, and in teaching and learning across the African continent. Since the dawn of political independence in Africa, there has been an ongoing search for the kind of education that will create a class of pr...

The Early Years
by Samuel Berlinski, Norbert Schady
The Early Years analyzes the development of Latin American and Caribbean children and makes a compelling case for government intervention in what is instinctively a family affair. Spending on effective programs for young children is an investment that, if done well, will have very high returns, while failure to implement such programs will lower th...

Lifestyle in Siberia and the Russian North
by Joachim Otto Habeck
Lifestyle in Siberia and the Russian North breaks new ground by exploring the concept of lifestyle from a distinctly anthropological perspective. Showcasing the collective work of ten experienced scholars in the field, the book goes beyond concepts of tradition that have often been the focus of previous research, to explain how political, economic ...