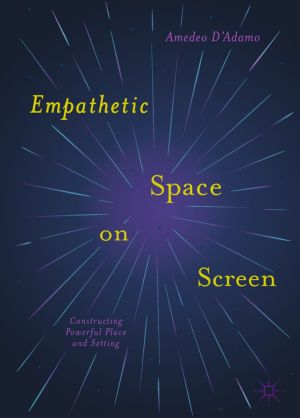 Book Description
In this book we learn that there is a clear but complex relationship between setting and character on screen. Certain settings stand out above others—think of the iconic gooey dripping tunnels that Ripley stumbles through in Aliens, Norman's bird-decorated parlour in Psycho or the dark Gotham of certain Batman movies. But what makes these particular settings so powerful and iconic? Amedeo D'Adamo explains why we care about and cry for certain characters, and then focuses on how certain places then become windows onto their emotional lives. Using popular case studies such as Apocalypse Now, Amelie, Homeland and The Secret Garden, this original and insightful book is the first to really explain what makes some settings so effective, revealing an important but as yet uncovered machinery of empathy in visual narrative space. An invaluable resource for students, academics and indeed young filmmakers designing their very own narratives for space on screen.
This open book is licensed under a Creative Commons License (CC BY). You can download Empathetic Space on Screen ebook for free in PDF format (4.9 MB).
Book Details
Publisher
Palgrave Macmillan
Published
2018
Pages
278
Edition
1
Language
English
ISBN13
9783319667713
ISBN10
3319667718
ISBN13 Digital
9783319667720
ISBN10 Digital
3319667726
PDF Size
4.9 MB
License

Related Books

Hardy Inequalities on Homogeneous Groups
by Michael Ruzhansky, Durvudkhan Suragan
This book provides an extensive treatment of Hardy inequalities and closely related topics from the point of view of Folland and Stein's homogeneous (Lie) groups. The place where Hardy inequalities and homogeneous groups meet is a beautiful area of mathematics with links to many other subjects. While describing the general theory of Hardy, Rellich,...

Responsive Open Learning Environments
by Sylvana Kroop, Alexander Mikroyannidis, Martin Wolpers
This book presents the outcomes of four years of educational research in the EU-supported project called ROLE (Responsive Online Learning Environments). ROLE technology is centered around the concept of self-regulated learning that creates responsible learners, who are capable of critical thinking and able to plan their own learning processes. ROL...

Satellite Earth Observations and Their Impact on Society and Policy
by Masami Onoda, Oran R Young
The result of a workshop bringing together an international advisory board of experts in science, satellite technologies, industry innovations, and public policy, this book addresses the current and future roles of satellite Earth observations in solving large-scale environmental problems. The book showcases the results of engaging distinct communi...

The Onlife Manifesto
by Luciano Floridi
What is the impact of information and communication technologies (ICTs) on the human condition? In order to address this question, in 2012 the European Commission organized a research project entitled The Onlife Initiative: concept reengineering for rethinking societal concerns in the digital transition. This volume collects the work of the Onlife ...

Ray Tracing Gems
by Eric Haines, Tomas Akenine-Möller
This book is a must-have for anyone serious about rendering in real time. With the announcement of new ray tracing APIs and hardware to support them, developers can easily create real-time applications with ray tracing as a core component. As ray tracing on the GPU becomes faster, it will play a more central role in real-time rendering. Ray Tracing...

TouchDevelop
by R. Nigel Horspool, Nikolai Tillmann
Mobile devices such as smartphones and tablets are set to become the main computers that virtually all people will own and carry with them at all times. And yet,mobile devices are not yet used for all computing tasks. A project at Microsoft Research was created to answer a simple question: "It is possible to create interesting apps directly on...