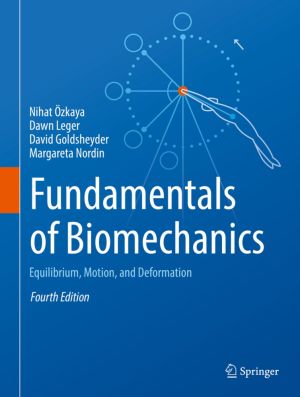 Book Description
This book integrates the classic fields of mechanics - statics, dynamics, and strength of materials - using examples from biology and medicine. The book is excellent for teaching either undergraduates in biomedical engineering programs or health care professionals studying biomechanics at the graduate level. Extensively revised from a successful third edition, Fundamentals of Biomechanics features a wealth of clear illustrations, numerous worked examples, and many problem sets. The book provides the quantitative perspective missing from more descriptive texts, without requiring an advanced background in mathematics. It will be welcomed for use in courses such as biomechanics and orthopedics, rehabilitation and industrial engineering, and occupational or sports medicine.
This book: Introduces the fundamental concepts, principles, and methods that must be understood to begin the study of biomechanics; Reinforces basic principles of biomechanics with repetitive exercises in class and homework assignments given throughout the textbook; Includes over 100 new problem sets with solutions and illustrations.
This open book is licensed under a Creative Commons License (CC BY). You can download Fundamentals of Biomechanics ebook for free in PDF format (5.4 MB).
Book Details
Subject
Medical
Publisher
Springer
Published
2017
Pages
459
Edition
4
Language
English
ISBN13
9783319447377
ISBN10
3319447378
ISBN13 Digital
9783319447384
ISBN10 Digital
3319447386
PDF Size
5.4 MB
License

Related Books

Foundations of Analytical Chemistry
by Miguel Valcárcel Cases, Ángela I. López-Lorente, Ma Ángeles López-Jiménez
This book offers a completely new approach to learning and teaching the fundamentals of analytical chemistry. It summarizes 250 basic concepts of the field on the basis of slides. Each of the nine chapters offers the following features: - Introduction: Summary. General scheme. Teaching objectives. - Text containing the explanation of each slide. - ...

Fundamentals of Business
by Stephen J. Skripak
Fundamentals of Business, 2nd Edition is an 372-page open education resource intended to serve as a no-cost, faculty customizable primary text for one-semester undergraduate introductory business courses. It covers the following topics in business: Teamwork; economics; ethics; entrepreneurship; business ownership, management, and leadership; organi...

Fundamentals of Clinical Data Science
by Pieter Kubben, Michel Dumontier, Andre Dekker
This book comprehensively covers the fundamentals of clinical data science, focusing on data collection, modelling and clinical applications. Topics covered in the first section on data collection include: data sources, data at scale (big data), data stewardship (FAIR data) and related privacy concerns. Aspects of predictive modelling using tec...

Fundamentals of Azure
by Michael Collier, Robin Shahan
Microsoft Azure is Microsoft's cloud computing platform, providing a wide variety of services you can use without purchasing and provisioning your own hardware. Azure enables the rapid development of solutions and provides the resources to accomplish tasks that may not be feasible in an on-premises environment. Azure's compute, storage, network, an...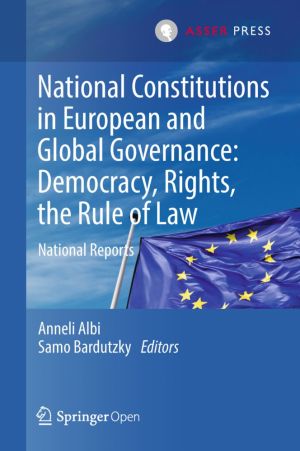 National Constitutions in European and Global Governance: Democracy, Rights, the Rule of Law
by Anneli Albi, Samo Bardutzky
This two-volume book, published open access, brings together leading scholars of constitutional law from twenty-nine European countries to revisit the role of national constitutions at a time when decision-making has increasingly shifted to the European and transnational level. It offers important insights into three areas. First, it explores how c...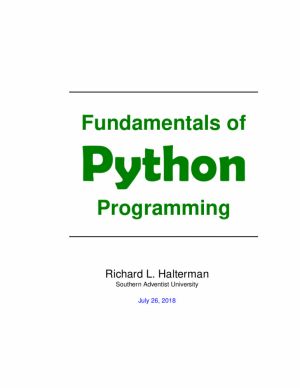 Fundamentals of Python Programming
by Richard L. Halterman
Guido van Rossum created the Python programming language in the late 1980s. In contrast to other popular languages such as C, C++ , Java, and C#, Python strives to provide a simple but powerful syntax. Python is used for software development at companies and organizations such as Google, Yahoo, Facebook, CERN, Industrial Light and Magic, and NAS...