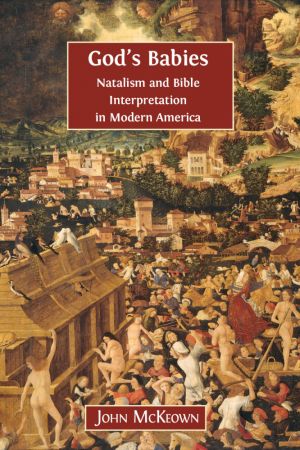 Book Description
The human population's annual total consumption is not sustainable by one planet. This unprecedented situation calls for a reform of religious cultures that promote a large ideal family size. Many observers assume that Christianity is inevitably part of this problem because it promotes "family values" and statistically, in America and elsewhere, has a higher birthrate than nonreligious people. This book explores diverse ideas about human reproduction in the church past and present. It investigates an extreme fringe of U.S. Protestantism, including the Quiverfull movement, that use Old Testament "fruitful" verses to support natalist ideas explicitly promoting higher fecundity. It also challenges the claim by some natalists that Martin Luther in the 16th century advocated similar ideas. This book argues that natalism is inappropriate as a Christian application of Scripture, especially since rich populations' total footprints are detrimental to biodiversity and to human welfare. It explores the ancient cultural context of the Bible verses quoted by natalists. Challenging the assumption that religion normally promotes fecundity, the book finds surprising exceptions among early Christians (with a special focus on Saint Augustine) since they advocated spiritual fecundity in preference to biological fecundity. Finally the book uses a hermeneutic lens derived from Genesis 1, and prioritising the modern problem of biodiversity, to provide ecological interpretations of the Bible's "fruitful" verses.
This open book is licensed under a Creative Commons License (CC BY). You can download God's Babies ebook for free in PDF format (10.8 MB).
Table of Contents
Chapter 1
Natalism: A Popular Use of the Bible
Chapter 2
Protestant Natalism in the U.S.
Chapter 3
Martin Luther: Forerunner of Natalism?
Chapter 4
The Old Testament Context
Chapter 5
Augustine on Fruitfulness
Chapter 6
An Ecological Critique of Natalism
Chapter 7
Conclusion
Book Details
Publisher
Open Book Publishers
Published
2014
Pages
262
Edition
1
Language
English
ISBN13
9781783740529
ISBN10
1783740523
ISBN13 Digital
9781783740543
ISBN10 Digital
178374054X
PDF Size
10.8 MB
License

Related Books

The Sword of Judith
by Kevin R. Brine, Elena Ciletti, Henrike Lähnemann
The Book of Judith tells the story of a fictitious Jewish woman beheading Holofernes, the general of a powerful army, to free her people. The story has fascinated artists and authors for centuries, and is becoming a major field of research in its own right. The Sword of Judith is the first multidisciplinary collection of essays to discuss repres...

Contemporary Bioethics
by Mohammed Ali Al-Bar, Hassan Chamsi-Pasha
This book discusses the common principles of morality and ethics derived from divinely endowed intuitive reason through the creation of al-fitr' a (nature) and human intellect (al-'aql). Biomedical topics are presented and ethical issues related to topics such as genetic testing, assisted reproduction and organ transplantation are discussed.Whereas...

The Cost of Insanity in Nineteenth-Century Ireland
by Alice Mauger
This book is the first comparative study of public, voluntary and private asylums in nineteenth-century Ireland. Examining nine institutions, it explores whether concepts of social class and status and the emergence of a strong middle class informed interactions between gender, religion, identity and insanity. It questions whether medical and lay e...

The Challenge of Chance
by Klaas Landsman, Ellen van Wolde
This book presents a multidisciplinary perspective on chance, with contributions from distinguished researchers in the areas of biology, cognitive neuroscience, economics, genetics, general history, law, linguistics, logic, mathematical physics, statistics, theology and philosophy. The individual chapters are bound together by a general introductio...

Faith, Finance, and Economy
by Tanweer Akram, Salim Rashid
This book seeks to foster a multidisciplinary understanding of the ties between faith, financial intermediation, and economic progress by drawing on research across economics, finance, history, philosophy, ethics, theology, public policy, law, and other disciplines. Chapters in this edited volume examine themes as consequential as economic opportun...