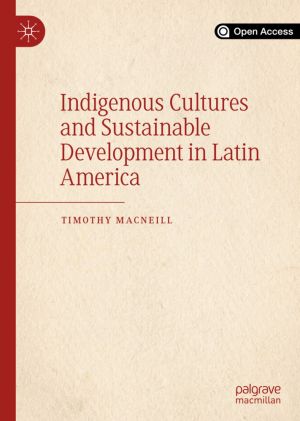 Book Description
This book outlines development theory and practice overtime as well as critically interrogates the "cultural turn" in development policy in Latin American indigenous communities, specifically, in Guatemala, Honduras, Ecuador, and Bolivia. It becomes apparent that culturally sustainable development is both a new and old idea, which is simultaneously traditional and modern, and that it is a necessary iteration in thinking on development. This new strain of thought could inform not only the work of development practitioners, graduate students, and theorists working in the Global South, but in the Global North as well.
Timothy MacNeill is Associate Teaching Professor of Political Science and Program Director of Sustainability Studies at University of Ontario Institute of Technology, Canada.
This open book is licensed under a Creative Commons License (CC BY). You can download Indigenous Cultures and Sustainable Development in Latin America ebook for free in PDF format (2.6 MB).
Book Details
Subject
Politics and Government
Publisher
Palgrave Macmillan
Published
2020
Pages
256
Edition
1
Language
English
ISBN13
9783030370220
ISBN10
3030370224
ISBN13 Digital
9783030370237
ISBN10 Digital
3030370232
PDF Size
2.6 MB
License

Related Books

Environmental Governance in Latin America
by Fábio de Castro, Barbara Hogenboom, Michiel Baud
The multiple purposes of nature - livelihood for communities, revenues for states, commodities for companies, and biodiversity for conservationists - have turned environmental governance in Latin America into a highly contested arena. In such a resource-rich region, unequal power relations, conflicting priorities, and trade-offs among multiple goal...

The Social Life of Economic Inequalities in Contemporary Latin America
by Margit Ystanes, Iselin Åsedotter Strønen
This edited volume examines how economic processes have worked upon social lives and social realities in Latin America during the past decades. Through tracing the effects of the neoliberal epoch into the era of the so-called pink tide, the book seeks to understand to what extent the turn to the left at the start of the millennium managed to challe...

Economic Evaluation of Sustainable Development
by Vinod Thomas, Namrata Chindarkar
This book presents methods to evaluate sustainable development using economic tools. The focus on sustainable development takes the reader beyond economic growth to encompass inclusion, environmental stewardship and good governance. Sustainable Development Goals (SDGs) provide a framework for outcomes. In illustrating the SDGs, the book employs thr...

Cyborgs in Latin America
by J. Andrew Brown
A PDF version of this book is available for free in open access via the OAPEN Library platform, www.oapen.org . Cyborgs in Latin America explores the ways cultural expression in Latin America has grappled with the changing relationships between technology and human identity....

Firm Innovation and Productivity in Latin America and the Caribbean
by Inter-American Development Bank, Matteo Grazzi, Carlo Pietrobelli
This volume uses the study of firm dynamics to investigate the factors preventing faster productivity growth in Latin America and the Caribbean, pushing past the limits of traditional macroeconomic analyses. Each chapter is dedicated to an examination of a different factor affecting firm productivity - innovation, ICT usage, on-the-job-training, fi...