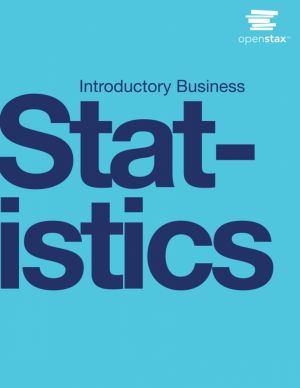 Book Description
Introductory Business Statistics is designed to meet the scope and sequence requirements of the one-semester statistics course for business, economics, and related majors. Core statistical concepts and skills have been augmented with practical business examples, scenarios, and exercises. The result is a meaningful understanding of the discipline, which will serve students in their business careers and real-world experiences.
This open book is licensed under a Creative Commons License (CC BY). You can download Introductory Business Statistics ebook for free in PDF format (19.6 MB).
Table of Contents
Chapter 1
Sampling and Data
Chapter 2
Descriptive Statistics
Chapter 3
Probability Topics
Chapter 4
Discrete Random Variables
Chapter 5
Continuous Random Variables
Chapter 6
The Normal Distribution
Chapter 7
The Central Limit Theorem
Chapter 8
Confidence Intervals
Chapter 9
Hypothesis Testing with One Sample
Chapter 10
Hypothesis Testing with Two Samples
Chapter 11
The Chi-Square Distribution
Chapter 12
F Distribution and One-Way ANOVA
Chapter 13
Linear Regression and Correlation
Appendix A
Statistical Tables
Appendix B
Mathematical Phrases, Symbols, and Formulas
Book Details
Publisher
OpenStax
Published
2017
Pages
631
Edition
1
Language
English
ISBN13
9781506699844
ISBN10
1506699847
ISBN13 Digital
9781947172470
ISBN10 Digital
1947172476
PDF Size
19.6 MB
License

Related Books

Fundamentals of Business
by Stephen J. Skripak
Fundamentals of Business, 2nd Edition is an 372-page open education resource intended to serve as a no-cost, faculty customizable primary text for one-semester undergraduate introductory business courses. It covers the following topics in business: Teamwork; economics; ethics; entrepreneurship; business ownership, management, and leadership; organi...

Essentials of Business Analytics
by Bhimasankaram Pochiraju, Sridhar Seshadri
This comprehensive edited volume is the first of its kind, designed to serve as a textbook for long-duration business analytics programs. It can also be used as a guide to the field by practitioners. The book has contributions from experts in top universities and industry. The editors have taken extreme care to ensure continuity across the chapters...

Business Process Management Cases
by Jan vom Brocke, Jan Mendling
This book is the first to present a rich selection of over 30 real-world cases of how leading organizations conduct Business Process Management (BPM). The cases stem from a diverse set of industry sectors and countries on different continents, reporting on best practices and lessons learned. The book showcases how BPM can contribute to both exploit...

Global Business Strategy
by Kazuyuki Motohashi
This book presents theories and case studies for corporations in developed nations, including Japan, for designing strategies to maximize opportunities and minimize threats in business expansion into developing nations. The case studies featured here focus on Asia, including China and India, and use examples of Japanese manufacturers. Five case st...

RESTART Sustainable Business Model Innovation
by Sveinung Jørgensen, Lars Jacob Tynes Pedersen
Taking the business model as point of departure, this book explores how companies and organizations can contribute to a more sustainable future by designing innovative models that are both sustainable and profitable. Based upon years of research, it draws together theoretical foundations and existing literature on the topic of sustainable business ...

Dynamics of Long-Life Assets
by Stefan N. Grösser, Arcadio Reyes-Lecuona, Göran Granholm
The editors present essential methods and tools to support a holistic approach to the challenge of system upgrades and innovation in the context of high-value products and services. The approach presented here is based on three main pillars: an adaptation mechanism based on a broad understanding of system dependencies; efficient use of system knowl...