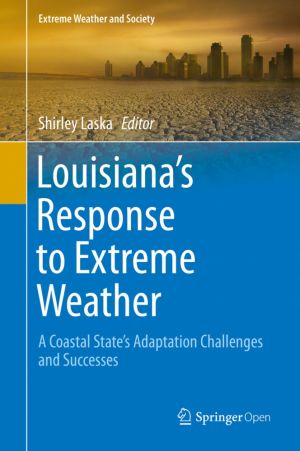 Book Description
This book takes an in-depth look at Louisiana as a state which is ahead of the curve in terms of extreme weather events, both in frequency and magnitude, and in its responses to these challenges including recovery and enhancement of resiliency.
Louisiana faced a major tropical catastrophe in the 21st century, and experiences the fastest rising sea level. Weather specialists, including those concentrating on sea level rise acknowledge that what the state of Louisiana experiences is likely to happen to many more, and not necessarily restricted to coastal states. This book asks and attempts to answer what Louisiana public officials, scientists/engineers, and those from outside of the state who have been called in to help, have done to achieve resilient recovery. How well have these efforts fared to achieve their goals? What might these efforts offer as lessons for those states that will be likely to experience enhanced extreme weather? Can the challenges of inequality be truly addressed in recovery and resilience? How can the study of the Louisiana response as a case be blended with findings from later disasters such as New York/New Jersey (Hurricane Sandy) and more recent ones to improve understanding as well as best adaptation applications – federal, state and local?
This open book is licensed under a Creative Commons License (CC BY). You can download Louisiana's Response to Extreme Weather ebook for free in PDF format (8.4 MB).
Book Details
Publisher
Springer
Published
2020
Pages
364
Edition
1
Language
English
ISBN13
9783030272043
ISBN10
3030272044
ISBN13 Digital
9783030272050
ISBN10 Digital
3030272052
PDF Size
8.4 MB
License

Related Books

Greening the Financial Sector
by Doris Köhn
Given the manifold challenges of financial sectors in developing and transition countries, one might be tempted to believe that embarking on "green" finance is not a priority for financial systems development. However, there are a number of arguments against this view. Environmental finance, particularly energy efficiency and renewable en...

Happiness is the Wrong Metric
by Amitai Etzioni
This timely book addresses the conflict between globalism and nationalism. It provides a liberal communitarian response to the rise of populism occurring in many democracies. The book highlights the role of communities next to that of the state and the market. It spells out the policy implications of liberal communitarianism for privacy, freedom o...

The Future of the Law of the Sea
by Gemma Andreone
It explores the diverse phenomena which are challenging the international law of the sea today, using the unique perspective of a simultaneous analysis of the national, individual and common interests at stake. This perspective, which all the contributors bear in mind when treating their own topic, also constitutes a useful element in the effort to...

Solidarity in Europe
by Christian Lahusen, Maria T. Grasso
This open access volume provides evidence-based knowledge on European solidarity and citizen responses in times of crisis. Does the crisis of European integration translate into a crisis of European solidarity, and if yes, what are the manifestations at the level of individual citizens? How strongly is solidarity rooted at the individual level, bot...

Forecasting and Assessing Risk of Individual Electricity Peaks
by Maria Jacob, Cláudia Neves, Danica Vukadinović Greetham
The overarching aim of this book is to present self-contained theory and algorithms for investigation and prediction of electric demand peaks. A cross-section of popular demand forecasting algorithms from statistics, machine learning and mathematics is presented, followed by extreme value theory techniques with examples.In order to achieve carbon t...

Food Price Volatility and Its Implications for Food Security and Policy
by Matthias Kalkuhl, Joachim von Braun, Maximo Torero
This book provides fresh insights into concepts, methods and new research findings on the causes of excessive food price volatility. It also discusses the implications for food security and policy responses to mitigate excessive volatility. The approaches applied by the contributors range from on-the-ground surveys, to panel econometrics and innova...