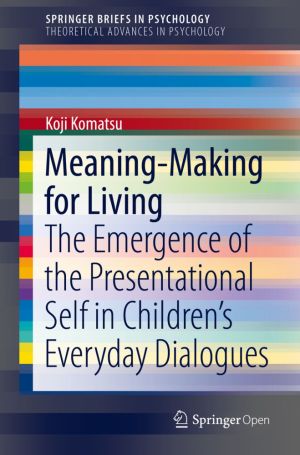 Book Description
This Open Access Brief analyzes the dynamics in which children's selves emerge through their everyday activities of meaning construction, both in their relationships with family and within school education. It begins with a discussion of new psychological inquiries into children's selves and builds upon the innovative theoretical notion of the Presentational Self, developed by the author over the last decade.
The book illustrates how the observation of children's meaning construction in their everyday lives becomes a starting point for theoretical and empirical inquiries into child development and gives a framework that promotes new inquiries in this area. The book describes the Presentational Self Theory as a sense of how the notion of the Self is being worked upon in everyday life encounters. Chapters feature in-depth analyses of exchanges between adults and children in the Japanese cultural context.
Meaning-Making for Living will be of interest to researchers and graduate students in the fields of cognitive, social, developmental, educational, and cultural psychology.
This open book is licensed under a Creative Commons License (CC BY). You can download Meaning-Making for Living ebook for free in PDF format (2.9 MB).
Book Details
Subject
Psychology
Publisher
Springer
Published
2019
Pages
153
Edition
1
Language
English
ISBN13
9783030199258
ISBN10
3030199258
ISBN13 Digital
9783030199265
ISBN10 Digital
3030199266
PDF Size
2.9 MB
License

Related Books

Investigations Into the Phenomenology and the Ontology of the Work of Art
by Peer Bundgaard, Frederik Stjernfelt
This book investigates the nature of aesthetic experience and aesthetic objects. Written by leading philosophers, psychologists, literary scholars and semioticians, the book addresses two intertwined issues. The first is related to the phenomenology of aesthetic experience: The understanding of how human beings respond to artworks, how we process l...

Social Psychology in Action
by Kai Sassenberg, Michael L.W. Vliek
This timely and applied textbook brings together leading scientists to illustrate how key theories and concepts in social psychology help to predict and explain behavior, and can be successfully applied to benefit social and practical problems. It focuses on robust theories and models known for their successful applications and covers a diverse ran...

Companion to European Heritage Revivals
by Linde Egberts, Koos Bosma
Are you organising an international heritage project? Turning a so-called 'heritage revival' into a meaningful experience for the general public can be a challenge to historians, archaeologists, museum conservators and tourism professionals alike. This Companion to European Heritage Revivals offers inspiration and new ideas to those who want to eng...

Early Childhood Policies and Systems in Eight Countries
by Tony Bertram, Chris Pascal
This report provides an overview of policy strategies on early childhood education settings (from birth to primary schooling) in eight countries. Data were collected using a policy questionnaire addressed to and completed by the National Research Coordinator(s) (NRC) of Chile, the Czech Republic, Denmark, Estonia, Italy, Poland, the Russian Federat...

Knowledge and Action
by Peter Meusburger, Benno Werlen, Laura Suarsana
This volume explores interdependencies between knowledge, action, and space from different interdisciplinary perspectives. Some of the contributors discuss knowledge as a social construct based on collective action, while others look at knowledge as an individual capacity for action. The chapters contain theoretical frameworks as well as experiment...