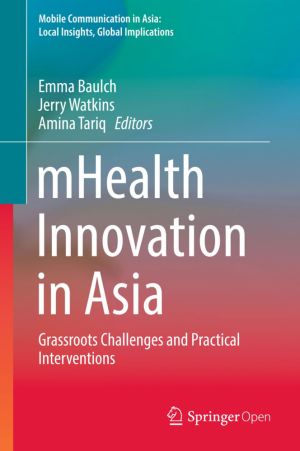 Book Description
This book offers a detailed account of a range of mHealth initiatives across South, Southeast and East Asia. It provides readers with deep insights into the challenges such initiatives face on the ground, and a view of the diverse cultural contexts shaping strategies for overcoming these challenges. The book brings together various discussions on the broader mHealth literature, and demonstrates how a research focus on diverse Asian contexts influences the success and/or failure of current mHealth initiatives. It also highlights the important roles social scientists can play in advancing theoretical approaches, as well as planning, implementing and evaluating mHealth initiatives. The book is a valuable resource for project planners, policy developers in NGOs and government institutions, as well as academics, researchers and students in the fields of public health, communications and development studies.
This open book is licensed under a Creative Commons License (CC BY). You can download mHealth Innovation in Asia ebook for free in PDF format (2.0 MB).
Book Details
Publisher
Springer
Published
2018
Pages
138
Edition
1
Language
English
ISBN13
9789402412505
ISBN10
9402412506
ISBN13 Digital
9789402412512
ISBN10 Digital
9402412514
PDF Size
2.0 MB
License

Related Books

Pragmatic Philanthropy
by Ruth A. Shapiro, Manisha Mirchandani, Heesu Jang
This cutting edge text considers how Asian philanthropists and charitable organizations break with Western philanthropic traditions and examines the key traits and trends that make social investment in Asia unique. Based on 30 case studies of excellent social delivery organizations (SDOs) and social enterprises as well as interviews with ultra-high...

Internal Migration, Urbanization and Poverty in Asia: Dynamics and Interrelationships
by Kankesu Jayanthakumaran, Reetu Verma, Guanghua Wan, Edgar Wilson
Asia's recent demographic transitions and rural - urban structural transformations are extraordinary and involve complexities that require in-depth study.The chapters within this volume examine those complexities using a range of traditional and nontraditional measures - such as multidimensional poverty, gaps, and polarization - to arrive at the co...

Education and Skills for Inclusive Growth, Green Jobs and the Greening of Economies in Asia
by Rupert Maclean, Shanti Jagannathan, Brajesh Panth
This book presents an overview of the main research findings and case studies concerning education and skills for inclusive growth, green jobs and the greening of economies. Focusing on India, Indonesia, Sri Lanka and Viet Nam, it discusses government and business sector responses to these issues and how Technical and Vocational Education and Train...

Environmental Leadership Capacity Building in Higher Education
by Takashi Mino, Keisuke Hanaki
The Graduate Program in Sustainability Science under the Department of Urban Engineering of The University of Tokyo has been running an environmental leadership education program at the graduate student level since 2007 called the Asian Program for Incubation of Environmental Leaders (APIEL). This book describes the University's experiences in esta...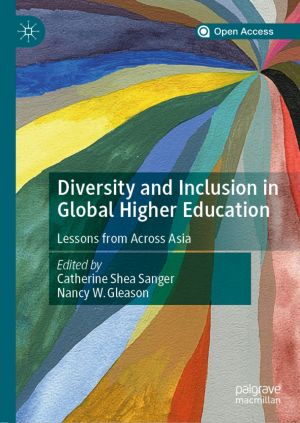 Diversity and Inclusion in Global Higher Education
by Catherine Shea Sanger, Nancy W. Gleason
This book offers pioneering insights and practical methods for promoting diversity and inclusion in higher education classrooms and curricula. It highlights the growing importance of international education programs in Asia and the value of understanding student diversity in a changing, evermore interconnected world. The book explores diversity acr...