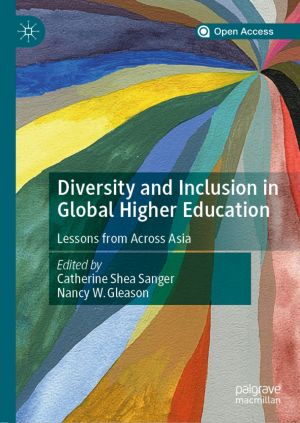 Book Description
This book offers pioneering insights and practical methods for promoting diversity and inclusion in higher education classrooms and curricula. It highlights the growing importance of international education programs in Asia and the value of understanding student diversity in a changing, evermore interconnected world. The book explores diversity across physical, psychological and cogitative traits, socio-economic backgrounds, value systems, traditions and emerging identities, as well as diverse expectations around teaching, grading, and assessment. Chapters detail significant trends in active learning pedagogy, writing programs, language acquisition, and implications for teaching in the liberal arts, adult learners, girls and women, and Confucian heritage communities. A quality, relevant, 21st Century education should address multifaceted and intersecting forms of diversity to equip students for deep life-long learning inside and outside the classroom. This timely volume provides a unique toolkit for educators, policy-makers, and professional development experts.
This open book is licensed under a Creative Commons License (CC BY). You can download Diversity and Inclusion in Global Higher Education ebook for free in PDF format (3.3 MB).
Book Details
Publisher
Palgrave Macmillan
Published
2020
Pages
310
Edition
1
Language
English
ISBN13
9789811516276
ISBN10
9811516278
ISBN13 Digital
9789811516283
ISBN10 Digital
9811516286
PDF Size
3.3 MB
License

Related Books

Successful Global Collaborations in Higher Education Institutions
by Abdulrahman AI-Youbi, Adnan H. M. Zahed, William G. Tierney
This book written by international experts in the field of educational innovation is a guide for universities to become world-class universities. It contributes to the current international intellectual debate on the future of higher education. It also tells the story of King Abdulaziz University in Jeddah (Saudi Arabia) and its effort to become a ...

The European Higher Education Area
by Adrian Curaj, Liviu Matei, Remus Pricopie, Jamil Salmi, Peter Scott
Bridging the gap between higher education research and policy making was always a challenge, but the recent calls for more evidence-based policies have opened a window of unprecedented opportunity for researchers to bring more contributions to shaping the future of the European Higher Education Area (EHEA). Encouraged by the success of the 2011 fir...

Talent Development in European Higher Education
by Dr. Marca V.C. Wolfensberger
This book examines the much-debated question of how to unleash the potential of young people with promising intellectual abilities and motivation. It looks at the increasingly important topic of excellence in education, and the shift in focus towards the provision of programs to support talented students in higher education. It provides a systemati...

European Higher Education Area: The Impact of Past and Future Policies
by Adrian Curaj, Ligia Deca, Remus Pricopie
Higher education has thrived in Europe for the last three decades supported by the powerful policy narratives of the European construction and knowledge society. The two together called for better-integrated societies with higher economic competitiveness, superior employment, and social cohesion. Extraordinary developments in higher education durin...

The Governing-Evaluation-Knowledge Nexus
by Christina Segerholm, Agneta Hult, Joakim Lindgren, Linda Rönnberg
This book analyses the interplay between governing, evaluation and knowledge with an empirical focus on Swedish higher education. It investigates the origins, logics, and mechanisms of evaluation and quality assurance reforms and their dynamic interactions with institutional, national and European policy contexts. The chapters report findings from ...