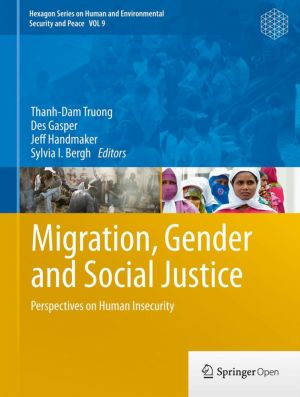 Book Description
This book is the product of a collaborative effort involving partners from Africa, Asia, Europe and Latin America who were funded by the International Development Research Centre Programme on Women and Migration (2006-2011). The International Institute of Social Studies at Erasmus University Rotterdam spearheaded a project intended to distill and refine the research findings, connecting them to broader literatures and interdisciplinary themes. The book examines commonalities and differences in the operation of various structures of power (gender, class, race/ethnicity, generation) and their interactions within the institutional domains of intra-national and especially inter-national migration that produce context-specific forms of social injustice. Additional contributions have been included so as to cover issues of legal liminality and how the social construction of not only femininity but also masculinity affects all migrants and all women. The resulting set of 19 detailed, interconnected case studies makes a valuable contribution to reorienting our perceptions and values in the discussions and decision-making concerning migration, and to raising awareness of key issues in migrants' rights. All chapters were anonymously peer-reviewed. This book resulted from a series of projects funded by the International Development Research Centre (IDRC), Canada.
This open book is licensed under a Creative Commons License (CC BY-NC). You can download Migration, Gender and Social Justice ebook for free in PDF format (5.8 MB).
Book Details
Publisher
Springer
Published
2014
Pages
409
Edition
1
Language
English
ISBN13
9783642280115
ISBN10
3642280110
ISBN13 Digital
9783642280122
ISBN10 Digital
3642280129
PDF Size
5.8 MB
License

Related Books

A Philosophical Examination of Social Justice and Child Poverty
by Gottfried Schweiger, Gunter Graf
This book investigates child poverty from a philosophical perspective. It identifies the injustices of child poverty, relates them to the well-being of children, and discusses who has a moral responsibility to secure social justice for children....

Research Methods for Social Justice and Equity in Education
by Kamden K. Strunk, Leslie Ann Locke
This book presents an integrative approach to thinking about research methods for social justice. In today's education landscape, there is a growing interest in scholar-activism and ways of doing research that advances educational equity. This text provides a foundational overview of important theoretical and philosophical issues specific to this k...

Wellbeing, Freedom and Social Justice
by Ingrid Robeyns
How do we evaluate ambiguous concepts such as wellbeing, freedom, and social justice? How do we develop policies that offer everyone the best chance to achieve what they want from life? The capability approach, a theoretical framework pioneered by the philosopher and economist Amartya Sen in the 1980s, has become an increasingly influential way to ...

Extended Working Life Policies
by Áine Ní Léime, Jim Ogg, Martina Rašticová, Debra Street, Clary Krekula, Monika Bédiová, Ignacio Madero-Cabib
This volume addresses the current debate on extended working life policy by considering the influence of gender and health on the experiences of older workers. Bringing together an international team of scholars, it tackles issues as gender, health status and job/ occupational characteristics that structure the capacity and outcomes associated with...

Shaping Natural History and Settler Society
by Tanja Hammel
"Hammel successfully illuminates how the production and circulation of Barber's work was deeply affected by contemporary attitudes towards gender and race within the colonial context of the nineteenth-century Cape. This fascinating book is destined to become a landmark in the history of science in South Africa." —Nigel Penn, University...