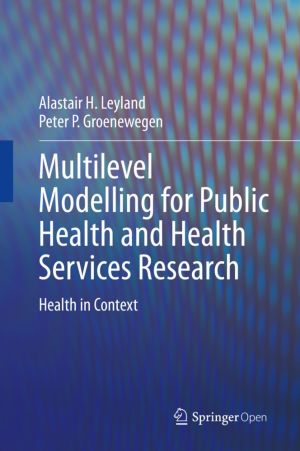 Book Description
This book is a practical introduction to multilevel modelling or multilevel analysis (MLA) – a statistical technique being increasingly used in public health and health services research. The authors begin with a compelling argument for the importance of researchers in these fields having an understanding of MLA to be able to judge not only the growing body of research that uses it, but also to recognise the limitations of research that did not use it. The volume also guides the analysis of real-life data sets by introducing and discussing the use of the multilevel modelling software MLwiN, the statistical package that is used with the example data sets. Importantly, the book also makes the training material accessible for download – not only the datasets analysed within the book, but also a freeware version of MLwiN to allow readers to work with these datasets.The book's practical review of MLA comprises:Theoretical, conceptual, and methodological backgroundStatistical backgroundThe modelling process and presentation of researchTutorials with example datasetsMultilevel Modelling for Public Health and Health Services Research: Health in Context is a practical and timely resource for public health and health services researchers, statisticians interested in the relationships between contexts and behaviour, graduate students across these disciplines, and anyone interested in utilising multilevel modelling or multilevel analysis."Leyland and Groenewegen's wealth of teaching experience makes this book and its accompanying tutorials especially useful for a practical introduction to multilevel analysis."̶ Juan Merlo, Professor of Social Epidemiology, Lund University"Comprehensive and insightful. A must for anyone interested in the applications of multilevel modelling to population health".̶ S. (Subu) V. Subramanian, Professor of Population Health and Geography, Harvard University
This open book is licensed under a Creative Commons License (CC BY). You can download Multilevel Modelling for Public Health and Health Services Research ebook for free in PDF format (10.0 MB).
Book Details
Subject
Medical
Publisher
Springer
Published
2020
Pages
293
Edition
1
Language
English
ISBN13
9783030347994
ISBN10
3030347990
ISBN13 Digital
9783030348014
ISBN10 Digital
3030348016
PDF Size
10.0 MB
License

Related Books

Extended Working Life Policies
by Áine Ní Léime, Jim Ogg, Martina Rašticová, Debra Street, Clary Krekula, Monika Bédiová, Ignacio Madero-Cabib
This volume addresses the current debate on extended working life policy by considering the influence of gender and health on the experiences of older workers. Bringing together an international team of scholars, it tackles issues as gender, health status and job/ occupational characteristics that structure the capacity and outcomes associated with...

Data and Text Processing for Health and Life Sciences
by Francisco Couto
This book is a step-by-step introduction on how shell scripting can help solve many of the data processing tasks that Health and Life specialists face everyday with minimal software dependencies. The examples presented in the book show how simple command line tools can be used and combined to retrieve data and text from web resources, to filter and...

Creating Healthy and Sustainable Buildings
by Mateja Dovjak, Andreja Kukec
The open access book discusses human health and wellbeing within the context of built environments. It provides a comprehensive overview of relevant sources of literature and user complaints that clearly demonstrate the consequences of lack of attention to health in current building design and planning. Current designing of energy-efficient buildin...

Aging Well
by Jean Galiana, William A. Haseltine
This book outlines the challenges of supporting the health and wellbeing of older adults around the world and offers examples of solutions designed by stakeholders, healthcare providers, and public, private and nonprofit organizations in the United States. The solutions presented address challenges including: providing person-centered long-term car...

A Demographic Perspective on Gender, Family and Health in Europe
by Gabriele Doblhammer, Jordi Gumà
This free book examines the triangle between family, gender, and health in Europe from a demographic perspective. It helps to understand patterns and trends in each of the three components separately, as well as their interdependencies. It overcomes the widely observable specialization in demographic research, which usually involves researchers stu...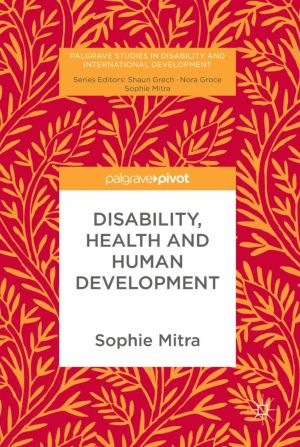 Disability, Health and Human Development
by Sophie Mitra
This book introduces the human development model to define disability and map its links with health and wellbeing, based on Sen's capability approach. The author uses panel survey data with internationally comparable questions on disability for Ethiopia, Malawi, Tanzania and Uganda. It presents evidence on the prevalence of disability and its stron...