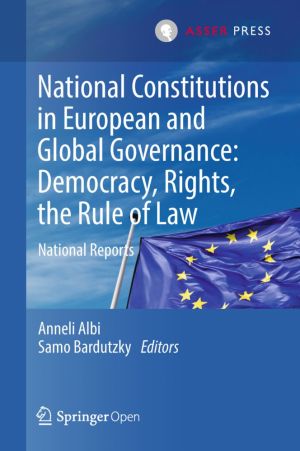 Book Description
This two-volume book, published open access, brings together leading scholars of constitutional law from twenty-nine European countries to revisit the role of national constitutions at a time when decision-making has increasingly shifted to the European and transnational level. It offers important insights into three areas. First, it explores how constitutions reflect the transfer of powers from domestic to European and global institutions. Secondly, it revisits substantive constitutional values, such as the protection of constitutional rights, the rule of law, democratic participation and constitutional review, along with constitutional court judgments that tackle the protection of these rights and values in the transnational context, e.g. with regard to the Data Retention Directive, the European Arrest Warrant, the ESM Treaty, and EU and IMF austerity measures. The responsiveness of the ECJ regarding the above rights and values, along with the standard of protection, is also assessed. Thirdly, challenges in the context of global governance in relation to judicial review, democratic control and accountability are examined. On a broader level, the contributors were also invited to reflect on what has increasingly been described as the erosion or 'twilight' of constitutionalism, or a shift to a thin version of the rule of law, democracy and judicial review in the context of Europeanisation and globalisation processes.
The national reports are complemented by a separately published comparative study, which identifies a number of broader trends and challenges that are shared across several Member States and warrant wider discussion. The research for this publication and the comparative study were carried out within the framework of the ERC-funded project 'The Role and Future of National Constitutions in European and Global Governance'.
The book is aimed at scholars, researchers, judges and legal advisors working on the interface between national constitutional law and EU and transnational law. The extradition cases are also of interest to scholars and practitioners in the field of criminal law.
Anneli Albi is Professor of European Law at the University of Kent, United Kingdom.
Samo Bardutzky is Assistant Professor of Constitutional Law at the University of Ljubljana, Slovenia.
This open book is licensed under a Creative Commons License (CC BY). You can download National Constitutions in European and Global Governance: Democracy, Rights, the Rule of Law ebook for free in PDF format (13.0 MB).
Book Details
Publisher
Asser Press
Published
2019
Pages
1522
Edition
1
Language
English
ISBN13
9789462652729
ISBN10
9462652724
ISBN13 Digital
9789462652736
ISBN10 Digital
9462652732
PDF Size
13.0 MB
License

Related Books

Protecting the Rights of People with Autism in the Fields of Education and Employment
by Valentina Della Fina, Rachele Cera
Fundamental rights for all people with disabilities, education and employment are key for the inclusion of people with autism. They play as facilitators for the social inclusion of persons with autism and as multipliers for their enjoyment of other fundamental rights. After outlining the international and European dimensions of the legal protection...

Talent Development in European Higher Education
by Dr. Marca V.C. Wolfensberger
This book examines the much-debated question of how to unleash the potential of young people with promising intellectual abilities and motivation. It looks at the increasingly important topic of excellence in education, and the shift in focus towards the provision of programs to support talented students in higher education. It provides a systemati...

Constructing Roma Migrants
by Tina Magazzini, Stefano Piemontese
This book presents a cross-disciplinary insight and policy analysis into the effects of European legal and political frameworks on the life of 'Roma migrants' in Europe. It outlines the creation and implementation of Roma policies at the European level, provides a systematic understanding of identity-based exclusion and explores concrete case studi...

Understanding Society and Natural Resources
by Michael J. Manfredo, Jerry J. Vaske, Andreas Rechkemmer, Esther A. Duke
In this edited open access book leading scholars from different disciplinary backgrounds wrestle with social science integration opportunities and challenges. This book explores the growing concern of how best to achieve effective integration of the social science disciplines as a means for furthering natural resource social science and environment...

Managing Risk and Information Security
by Malcolm Harkins
Managing Risk and Information Security: Protect to Enable, an ApressOpen title, describes the changing risk environment and why a fresh approach to information security is needed. Because almost every aspect of an enterprise is now dependent on technology, the focus of IT security must shift from locking down assets to enabling the business while m...

eIoT
by Steffi O. Muhanji, Alison E. Flint, Amro M. Farid
This book explores the collision between the sustainable energy transition and the Internet of Things (IoT). In that regard, this book's arrival is timely. Not only is the Internet of Things for energy applications, herein called the energy Internet of Things (eIoT), rapidly developing but also the transition towards sustainable energy to abate glo...