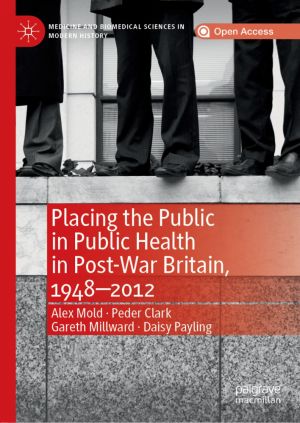 Book Description
This book explores the question of who or what 'the public' is within 'public health' in post-war Britain. Drawing on historical research on the place of the public in public health in Britain from the establishment of the National Health Service in 1948, the book presents a new perspective on the relationship between state and citizen. Focusing on health education, health surveys, heart disease and the development of vaccination policy and practice, the book establishes that 'the public' was not one thing but many. It considers how public health policy makers and practitioners imagined the public or publics. These publics were not mere constructions; they had agency and the ability to 'speak back' to public health. The nature of publicness changed during the latter half of the twentieth century, and this book argues that the relationship between the public and public health offers a powerful lens through which to examine such shifts.
This open book is licensed under a Creative Commons License (CC BY). You can download Placing the Public in Public Health in Post-War Britain, 1948–2012 ebook for free in PDF format (2.2 MB).
Book Details
Subject
History
Publisher
Palgrave Pivot
Published
2019
Pages
146
Edition
1
Language
English
ISBN13
9783030186845
ISBN10
3030186849
ISBN13 Digital
9783030186852
ISBN10 Digital
3030186857
PDF Size
2.2 MB
License

Related Books

Evidence Use in Health Policy Making
by Justin Parkhurst, Stefanie Ettelt, Benjamin Hawkins
This book provides a set of conceptual, empirical, and comparative chapters that apply a public policy perspective to investigate the political and institutional factors driving the use of evidence to inform health policy in low, middle, and high income settings. The work presents key findings from the Getting Research Into Policy (GRIP-Health) pro...

Impact of Information Society Research in the Global South
by Arul Chib, Julian May, Roxana Barrantes
The second volume in the SIRCA book series investigates the impact of information society initiatives by extending the boundaries of academic research into the realm of practice. Global in scope, it includes contributions and research projects from Asia, Africa and Latin America. The international scholarly community has taken a variety of approach...

Information Infrastructures within European Health Care
by Margunn Aanestad, Miria Grisot, Ole Hanseth, Polyxeni Vassilakopoulou
This book consolidates experiences from across Europe on the design, development, implementation and evolution of inter-organisational information infrastructures for healthcare. It provides insights with practical relevance for those involved or interested in the planning and implementation of such infrastructures and includes 11 empirical cases o...

Data-Driven Policy Impact Evaluation
by Nuno Crato, Paolo Paruolo
In the light of better and more detailed administrative databases, this book provides statistical tools for evaluating the effects of public policies advocated by governments and public institutions. Experts from academia, national statistics offices and various research centers present modern econometric methods for an efficient data-driven policy...

Making Medicines in Africa
by Maureen Mackintosh, Geoffrey Banda, Paula Tibandebage, Watu Wamae
The importance of the pharmaceutical industry in Sub-Saharan Africa, its claim to policy priority, is rooted in the vast unmet health needs of the sub-continent. Making Medicines in Africa is a collective endeavour, by a group of contributors with a strong African and more broadly Southern presence, to find ways to link technological development, i...