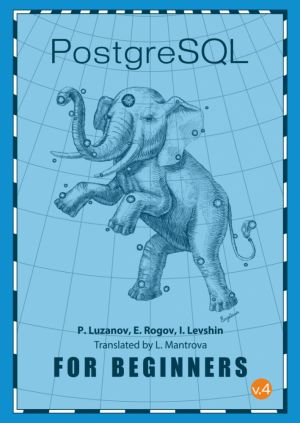 Book Description
PostgreSQL for Beginners book is intended for those who only start getting acquainted with the world of PostgreSQL. It contains some basic information about this DBMS and its main features, history of its creation and development roadmap, step-by-step installation instructions and a getting started guide.
This open book is licensed under a Creative Commons License (CC BY). You can download PostgreSQL for Beginners ebook for free in PDF format (1.5 MB).
Table of Contents
Introduction
About PostgreSQL
Installation and Quick Start
Demo Database
Additional Features
PostgreSQL for Applications
pgAdmin
Documentation and Trainings
The Hacker's Guide to the Galaxy
Postgres Professional
Book Details
Subject
Computer Science
Publisher
Self-publishing
Published
2018
Pages
142
Edition
1
Language
English
PDF Size
1.5 MB
License

Related Books

Graph Databases For Beginners
by Bryce Merkl Sasaki, Joy Chao, Rachel Howard
Whether you're a business executive or a seasoned developer, something has led you on the quest to learn more about graphs - and what they can do for you. This ebook will take those new to the world of graphs through the basics of graph technology, including: Using the intuitive Cypher query language; The importance of data relationships; Key di...

Eloquent JavaScript
by Marijn Haverbeke
JavaScript lies at the heart of almost every modern web application, from social apps like Twitter to browser-based game frameworks like Phaser and Babylon. Though simple for beginners to pick up and play with, JavaScript is a flexible, complex language that you can use to build full-scale applications. This much anticipated and thoroughly revis...

Linear Algebra with Applications
by Keith Nicholson
Linear Algebra with Applications by W. Keith Nicholson, traditionally published for many years is now being released as an open educational resource. Overall, the aim of the book is to achieve a balance among computational skills, theory, and applications of linear algebra. It is a relatively advanced introduction to the ideas and techniques of ...

Think Raku (Think Perl 6)
by Allen Downey, Laurent Rosenfeld
The title of this book was originally Think Perl 6, but since Perl 6 has been renamed Raku, we have also changed the title of the book. Want to learn how to program and think like a computer scientist? This practical guide gets you started on your programming journey with the help of Raku (Perl 6), the younger sister of the popular Perl programm...

The InfoSec Handbook
by Umesh Hodeghatta Rao, Umesha Nayak
The InfoSec Handbook offers the reader an organized layout of information that is easily read and understood. Allowing beginners to enter the field and understand the key concepts and ideas, while still keeping the experienced readers updated on topics and concepts. It is intended mainly for beginners to the field of information security, writte...