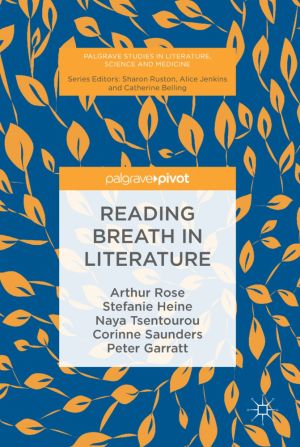 Book Description
This book presents five different approaches to reading breath in literature, in response to texts from a range of historical, geographical and cultural environments. Breath, for all its ubiquity in literary texts, has received little attention as a transhistorical literary device. Drawing together scholars of Medieval Romance, Early Modern Drama, Fin de Siècle Aesthetics, American Poetics and the Postcolonial Novel, this book offers the first transhistorical study of breath in literature. At the same time, it shows how the study of breath in literature can contribute to recent developments in the Medical Humanities.
This open book is licensed under a Creative Commons License (CC BY). You can download Reading Breath in Literature ebook for free in PDF format (1.4 MB).
Book Details
Publisher
Palgrave Pivot
Published
2019
Pages
141
Edition
1
Language
English
ISBN13
9783319999470
ISBN10
3319999478
ISBN13 Digital
9783319999487
ISBN10 Digital
3319999486
PDF Size
1.4 MB
License

Related Books

An Anthology of London in Literature, 1558-1914
by Geoffrey G. Hiller, Peter L. Groves, Alan F. Dilnot
This book is an anthology of extracts of literary writing (in prose, verse and drama) about London and its diverse inhabitants, taken from the accession of Queen Elizabeth I in 1558 to the outbreak of the Great War in 1914. The 143 extracts, divided into four periods (1558-1659, 1660-1780, 1781-1870 and 1871-1914), range from about 250 words to 2,5...

Humanities World Report 2015
by Poul Holm, Arne Jarrick, Dominic Scott
The first of its kind, this Open Access 'Report' is a first step in assessing the state of the humanities worldwide. Based on an extensive literature review and enlightening interviews the book discusses the value of the humanities, the nature of humanities research and the relation between humanities and politics, amongst other issues....

Play-Responsive Teaching in Early Childhood Education
by Niklas Pramling, Cecilia Wallerstedt, Pernilla Lagerlöf, Camilla Björklund, Anne Kultti, Hanna Palmér, Maria Magnusson, Susanne Thulin, Agneta Jonsson, Ingrid Pramling Samuelsson
This book develops a theoretical concept of teaching that is relevant to early childhood education, and based on children's learning and development through play. It discusses theoretical premises and research on playing and learning, and proposes the development of play-responsive didaktik. It examines the processes and products of learning and de...

The Poetics and Politics of Alzheimer's Disease Life-Writing
by Martina Zimmermann
This is the first book-length exploration of the thoughts and experiences expressed by dementia patients in published narratives over the last thirty years. It contrasts third-person caregiver and first-person patient accounts from different languages and a range of media, focusing on the poetical and political questions these narratives raise: wha...

Building a Resilient and Sustainable Agriculture in Sub-Saharan Africa
by Abebe Shimeles, Audrey Verdier-Chouchane, Amadou Boly
What are the challenges and action points for agricultural sustainability in Sub-Saharan Africa? This collection of papers offers technical analyses, policy recommendations and an overview of success stories to date. Each carefully selected paper provides valuable insights for improved policy making and defines relevant strategic priorities on Afri...

Evaluating Evidence of Mechanisms in Medicine
by Veli-Pekka Parkkinen, Christian Wallmann, Michael Wilde, Brendan Clarke, Phyllis Illari, Michael Kelly, Charles Norell, Federica Russo, Beth Shaw, Jon Williamson
This book is the first to develop explicit methods for evaluating evidence of mechanisms in the field of medicine. It explains why it can be important to make this evidence explicit, and describes how to take such evidence into account in the evidence appraisal process. In addition, it develops procedures for seeking evidence of mechanisms, for eva...