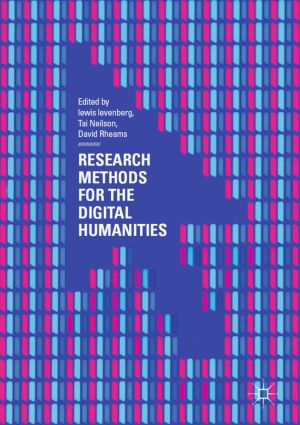 Book Description
This volume introduces the reader to the wide range of methods that digital humanities employ, and offers a practical guide to the study, interpretation, and presentation of cultural material and practices. In this instance, the editors consider digital humanities to include both the use of computing to understand cultural material in new ways, and the application of theories and methods from the humanities to interpret new technologies. Each chapter provides a step-by-step guide to cutting-edge methodologies so that students can make informed decisions about the methods they use, consider ethical practices, follow practical procedures, and present their work effectively. Readers will develop practical and reflexive understandings of the software and digital devices that they study and use for research, and the book will help new researchers collaborate and contribute to their scholarly communities, and to public discourse. As contemporary humanities work becomes increasingly interdisciplinary, and increasingly permeated by and with digital technologies, this volume helps new researchers navigate an evolving academic environment. Humanities and social sciences students will find this textbook an invaluable resource for assessing and creating digital projects.
This open book is licensed under a Creative Commons License (CC BY). You can download Research Methods for the Digital Humanities ebook for free in PDF format (6.4 MB).
Book Details
Publisher
Palgrave Macmillan
Published
2018
Pages
330
Edition
1
Language
English
ISBN13
9783319967127
ISBN10
3319967126
ISBN13 Digital
9783319967134
ISBN10 Digital
3319967134
PDF Size
6.4 MB
License

Related Books

Research Methods for Social Justice and Equity in Education
by Kamden K. Strunk, Leslie Ann Locke
This book presents an integrative approach to thinking about research methods for social justice. In today's education landscape, there is a growing interest in scholar-activism and ways of doing research that advances educational equity. This text provides a foundational overview of important theoretical and philosophical issues specific to this k...

Digital Technology and the Practices of Humanities Research
by Jennifer Edmond
How does technology impact research practices in the humanities? How does digitisation shape scholarly identity? How do we negotiate trust in the digital realm? What is scholarship, what forms can it take, and how does it acquire authority? This diverse set of essays demonstrate the importance of asking such questions, bringing together establis...

New Methods for Measuring and Analyzing Segregation
by Mark  Fossett
This book introduces new methods for measuring and analyzing residential segregation. It begins by placing all popular segregation indices in the "difference of group means" framework wherein index scores can be obtained as simple differences of group means on individual-level residential attainments scored from area racial composition. ...

Computation and the Humanities
by Julianne Nyhan, Andrew Flinn
This book addresses the application of computing to cultural heritage and the discipline of Digital Humanities that formed around it. Digital Humanities research is transforming how the Human record can be transmitted, shaped, understood, questioned and imagined and it has been ongoing for more than 70 years. However, we have no comprehensive histo...

Research Assessment in the Humanities
by Michael Ochsner, Sven E. Hug, Hans-Dieter Daniel
This book is open access, which means that you have free and unlimited access.This book analyses and discusses the recent developments for assessing research quality in the humanities and related fields in the social sciences. Research assessments in the humanities are highly controversial and the evaluation of humanities research is delicate. Whi...

Compendium for Early Career Researchers in Mathematics Education
by Gabriele Kaiser, Norma Presmeg
The purpose of this Open Access compendium, written by experienced researchers in mathematics education, is to serve as a resource for early career researchers in furthering their knowledge of the state of the field and disseminating their research through publishing. To accomplish this, the book is split into four sections: Empirical Methods, Impo...